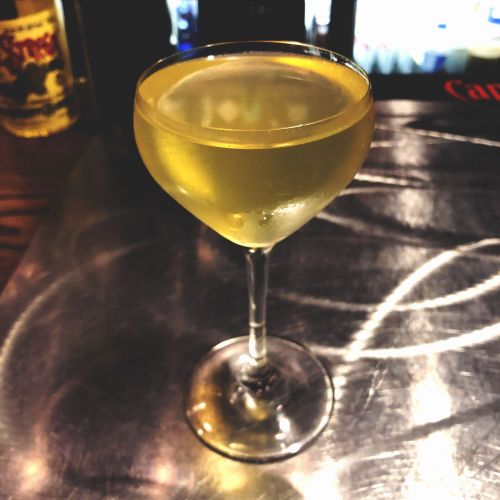 On our ninth week of the Cocktail Showdown, we made just a single stop that showcased one of the most well known restaurants in North Dakota, The Toasted Frog. While they had been locally and regionally celebrated for their restaurants in Fargo, Grand Forks, and Bismarck, the downtown Fargo location of The Toasted Frog and the franchise, in general, was recently given some big-time TV attention from both the Travel Channel and The Food Network. The latter focused primarily on the legendary fried pickles that have become a staple of almost every visit I make to the Toasted Frog and I've heard tales of travelers stopping into "the Frog" just because of those TV pieces and the mouth-watering perfection that is their fried pickle appetizer.
On this particular night though, I wasn't there for a prime rib special, wood-fired sandwich, pizza, or lavosh, or even my favorite fried pickles but rather to experience and evaluate two cocktails presented by their bar manager and returning competitor, James Hein.
The cocktail: Minnesota Spice
The creator: James Hein
James, like almost everyone else who has presented us with a cocktail that features Far North Spirits' Alander Spiced Rum felt the need to qualify his spirit choice by stating that he doesn't usually care for spiced rum but really enjoys the flavor profile of the rum by Far North Spirits. I have to agree with him wholeheartedly and have especially enjoyed seeing our local cocktail creators reaching for this regionally produced gem. To the spiced rum he added Barrows Intense ginger liqueur, Strega Italian Amaro, a house-spiced syrup, Regan's Orange bitters, and ice to a pitcher that was then stirred to chill and dilute. This mixture was then strained into a chilled cocktail coupe and topped with a bit of orange zest.
The little touch of sweetness from the syrup was pleasantly warmed by the saffron in the Strega, the rum spices and ginger heat. I also had to make note that it had a very pleasing velvety mouthfeel that was unexpected given how translucent the drink appeared.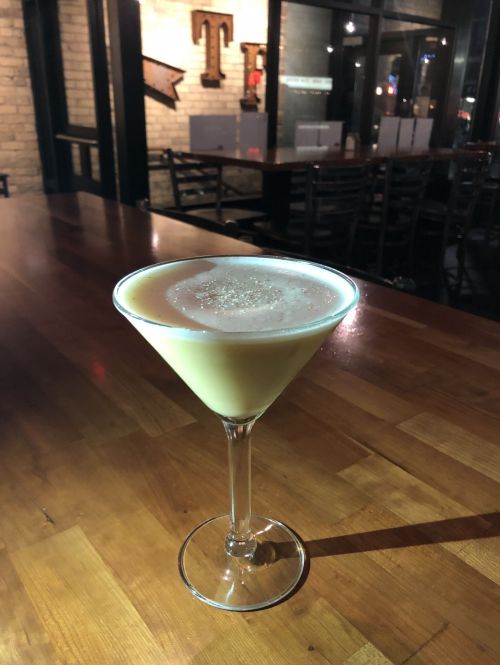 The after-dinner drink: The Pear Diem
The creator: James Hein
James added J Pear liqueur, St. Elizabeth Allspice Dram and Angostura bitters to a shaker with a full egg and some more of that house made spice syrup. The cocktail was shaken with the egg and then ice was added and it was shaken again before strained into chilled martini glasses. A bit of nutmeg was shaved on top before it was presented for us to enjoy. This after-dinner drink had a fair amount of depth to it for such a small and simple ingredient list and I found myself at times tasting the pear and at other times it would disappear into the spices and egg. Other times the egg and sugar would take over and make it almost taste like eggnog that was spiced in a perfectly warming way.