47th Annual UND Writers Conference "The Art Of Science," April 6-8, 2016
News | March 30th, 2016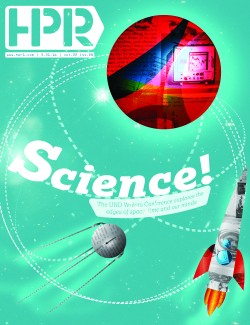 The 47th Annual UND Writers Conference, "The Art of Science," will take place April 6-8, 2016 at the Memorial Union on UND's campus in Grand Forks. The Conference will feature authors/artists who incorporate the hard sciences into their work. The Conference will feature readings, panel discussions, book signings, workshops, and film screenings. The UND Early Career Big Data Summit, which includes a Hack-A-Thon, will be co-located with this year's Conference. All events are free and open to the public. Free parking is available. For more information, visit our website at www.undwritersconference.org.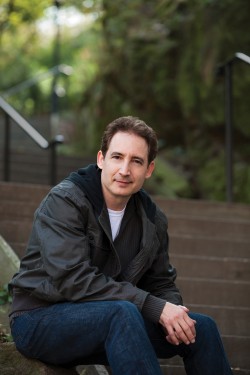 BRIAN GREENE
From Neil deGrasse Tyson's mic drop on The Nightly Show to TurboTax commercials, theoretical physicists have been stepping out of their labs and into the public eye (as well as pop culture) with increasing frequency. One of the most recognizable is Harvard and Oxford educated Rhodes Scholar Brian Greene, a leading researcher in string theory at Columbia University, where he seeks to unite the definitions of gravity and particle physics in an attempt to find what some call "The Theory of Everything." Although this field is notoriously difficult, Greene writes for a general audience with the intention of transforming these complex scientific concepts into something the average reader can enjoy learning about.
Greene is the author of New York Times best sellers The Elegant Universe: Superstrings, Hidden Dimensions, and the Quest for the Ultimate Theory, which was a finalist for the Pulitzer Prize in General Nonfiction,and The Fabric of the Cosmos: Space, Time, and the Texture of Reality, both of which have been adapted for PBS Nova Series and are available to stream online. He also publishes regularly in the Smithsonian Magazine on a broad range of topics from the discovery of the Higgs Boson to gravitational waves. He has had a cameo on CBS' The Big Bang Theory and made a number of appearances on The Late Show with Stephen Colbert.
In his efforts to make everyone more excited about science, Greene also co-founded The World Science Festival with Alan Alda, which is held annually in New York City to inspire and inform the public audiences about the world of scientific discovery. Recently, Greene and others launched World Science U, which has everything from quick answers to science to master classes, many for free.
Greene is arriving in Grand Forks after a tour of Australia where he had a new species of water spider named after him: the Dolomedes briangreenei.
Brian Greene will present on his work Wednesday, April 6 at 8:00 PM in the Ballroom at the Memorial Union. He will also participate in the noon panels on both Wednesday, April 6 and Thursday, April 7. Greene will answer audience questions for a special episode of Prairie Public Radio's "Main Street" on "How to Communicate Science to a Popular Audience" on April 7th at 2 pm.
[Sandi Kruse is an undergraduate in the Honors program at UND majoring in English and Women & Gender Studies]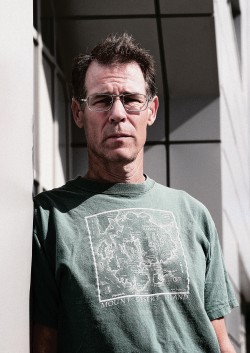 KIM STANLEY ROBINSON
Hailed by The New Yorker as one of America's "best, bravest, and most moral" storytellers, one could argue that Kim Stanley Robinson has done more for the literary reputation of science fiction than any other living writer. Robinson's fiction advocates a dual responsibility: for the public to better understand scientific progress and for the scientific community to manage the ethical and social effects of their discoveries. To that end, Robinson calls his preferred genre "the realism of our time." For him, science fiction isn't kid's stuff; it's an aesthetic experiment in how we should live.
Robinson's literary imagination knows few bounds. His landmark "Mars Trilogy," published from 1993 to 1996, concerns the political, intellectual, and ethical struggle over making the planet Mars into a place both habitable and sustainable for human life. Here, as in all of his work, Robinson crafts elaborate and tender depictions of places and people at the far reaches of what the reader can imagine, let alone know. His writing has been praised by a community of readers as wide and diverse as his learning. Robinson's nineteen bestselling novels have earned him multiple Hugo, Locus, and Nebula awards from the science fiction community. In 2008 Time Magazine named him a "hero of the environment."
Critics have called Robinson's most recent novel Aurora (2015) an exciting departure from his previous work. This is true in more ways than one. Here the reader follows the interstellar journey of a small group of colonists on a multigenerational voyage to an earthlike moon they hope to make into a new home. What they find there isn't sustainable, however. In essence, Aurora uses the allegorical voyage of space travelers in the 26th century to beautifully reinforce what we already know: humans need the earth. And the earth needs us. As a sage character explains: "life is a planetary thing."
The science fiction of Kim Stanley Robinson offers the reader many new ways to see our world, and, just maybe, imagine a better one.

Kim Stanley Robinson will read his work at 8 p.m. April 7. He will also participate in the "Other Worlds" panel discussion at noon April 7. All events will be held at UND's Memorial Union Ballroom.
[Dave Haeselin teaches in the Department of English at UND.]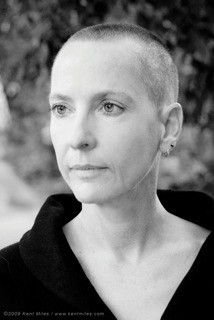 KATHARINE COLES
Poet, professor, and director of the Utah Symposium in Science and Literature, Katharine Coles is the author of two novels, The Measurable World (1995) and Fire Season (2005), as well as several collections of poetry, including The Earth Is Not Flat (2013) and Fault (2008). One cannot read descriptions of Coles's work without encountering words, such as "lucid," "sensuous," "scientifically-alert," and "passionate." She truly understands how the pursuits of art and science are two sides of the same coin.
Her work represents a bridge between the (so-called) two cultures. The Earth Is Not Flat contains poems inspired by Coles's adventure across the Drake Passage to spend a month at an Antarctic science station, capturing the beauty of the land and creatures present while also addressing the effects of human habitation on the ecosystem. In Fault, Coles engages scientific giants including Newton, Kepler, and Versalius. Coles's latest collection, Flight (forthcoming April), according to Alison Hawthorne Deming, is "suffused equally with song and science, clarity and multiplicity" and "shows just what kind of wonderful instrument poetry can be for fine-tuning consciousness, for being true to the tension between the limits and reach of knowledge." Hawthorne Deming continues, "[f]rom the Pancake batfish to the pocket inside the pocket, Katharine Coles collects exotica and renders it part of the interior landscape."
Katharine Coles will lead a community workshop focusing on poetry at the UND Writers Conference at 2 pm on April 6th and will read from her work at 4 pm on April 7th. She will also participate in the noon panels on Wednesday and Friday. All events are held in UND's Memorial Union Ballroom.
[Spencer Valentine is an undergraduate at UND, majoring in Computer Science and English]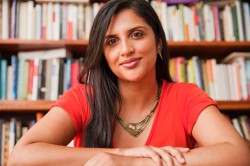 TANIA JAMES
Tania James is one of the United States' boldest and most acclaimed young writers. Her latest novel, 2015's The Tusk That Did the Damage, examines the morally fraught world of the international ivory trade from several perspectives, including a poacher, a documentarian, and –astonishingly – an elephant. National Geographic Traveler calls the novel a "narrative that's heart-racingly paced," one that offers "three interwoven stories that converge with a devastating, compelling fatality," and that moves "between the humid intensity of southern India's jungles, the cool assurance of the American's editing studio, and the elephant's primordial internal landscape with grace and humour, as light-footed as a poacher."
The Tusk That Did the Damage is set in Kerala, James' family's ancestral region in India, where James used funds from a Fulbright grant to research the complexities of elephant-human conflict. In an interview with The Hindu, one of India's most read English newspapers, James describes her field-work, which included observing a rural Indian veterinarian. She also explains the challenges of writing from an elephant's point-of-view: "Initially I tried a first-person voice, but it seemed too fabulist. While I love fabulist writing, it didn't quite mesh with the other two voices. I tried writing from the points of view of people around the elephant as well. I suspect I was a little hesitant to anthropomorphize but the more research I did on elephant behavior, the more it seemed that the term was somewhat outdated, based on an old understanding of what we know about animal psychology." This narrative care is evident not just in the sections depicting the rogue elephant, but throughout the rich and ultimately quite moving novel.
Tania James was born in Chicago in 1980 and raised in Louisville, Kentucky. She holds a Bachelor's degree from Harvard University in filmmaking, and a Masters of Fine Arts from Columbia University. Her 2010 debut novel, TheAtlas of the Unknown, is also set in Kerala. She published Aerogrammes, her first collection of short stories, in 2012. In addition to the Fulbright, James has received fellowships from the Ragdale Foundation and the D.C. Commission on the Arts and Humanities. She lives in Washington, D.C. with her husband and son.
Tania James will read from her work at 4 pm on April 8th. She will also participate in the noon panel Friday. All events are held in UND's Memorial Union Ballroom.
[Andrew Harnish is a Ph.D. candidate in English at UND]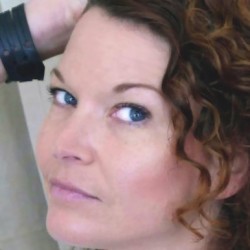 ALLISON LEIGH HOLT
Allison Leigh Holt is a multimedia artist coming from San Francisco, whose inspiration is a mixture of science fiction, philosophy, cognitive science, and modern physics. She pursues a dialogue between divergent ways of experiencing, comprehending, and describing reality.
In one of her works, "The Beginning Was the End: Hybrid Reality in Javanese Culture," Holt explores traditional Javanese culture and how it intersects with her own philosophy. In doing so, as Holt explains, her artwork focuses on "how systems of thinking construct experiences of reality that differ fundamentally and how they lead to ways of knowing that are radically different around the world." Holt uses multi-layered mediums, including video, sculpture, lighting and sound, to create models and environments that explore the relationships between knowledge, belief, and cognition, between waking and dreaming consciousness, and between alternate and tangible realities. Holt's deconstruction of reality provides insights into how we think about our participation in and interaction with the world, in addition to suggesting why traditional cultures may be fading globally.
Her works are have been featured internationally, most notably at SFMOMA, Stanford University, Anthology Film Archives (NYC), Cemeti Art House (Indonesia), Axiom Gallery for New and Experimental Media (Boston), San Francisco Cinematheque, the Boston Cyberarts Festival, the Urban Screens Conference (Melbourne), and the Yogyakarta International New Media Festival (www.oillyoowen.com). Currently, Holt is a finalist at The Smithsonian Institution in Washington, D.C., where she plans to extend her research for "The Beginning Was the End."
Holt is active on her website, www.oillyoowen.com, and Twitter (@OillyOowen).
Allison Leigh Holt will participate in the noon panel discussions on Wednesday and Thursday, as well as present on her art on Wednesday at 4 pm. All of which take place in UND's Memorial Union Ballroom. Holt will also be unveiling a new installation at the North Dakota Museum of Art during the UND Writers Conference. All events are held in UND's Memorial Union Ballroom.
[AJ Kalsnes is an alumnus of UND]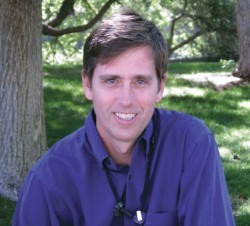 DR. FRANK HUYLER
"As a doctor I get to talk to people from all walks of life, often about intimate and profound things—people with whom I would never exchange words elsewhere." ~Dr. Frank Huyler
Albuquerque resident Dr. Frank Huyler is the author of the fictional works like The Laws of Invisible Things, The Castaway, and Right of Thirst, in addition to the nonfiction The Blood of Strangers: Stories from Emergency Medicine, whose "spare stories transmit emotions as if from a distance, but with a tender fidelity," according to The New England Journal of Medicine's book review. An emergency physician and a tenured professor at the University of New Mexico School of Medicine, Huyler also works with a nonprofit governmental organization committed to providing medical care to the Aymara Indians and other residents of Sorata, Bolivia, located high in the Andes Mountains. Huyler donated part of Right of Thirst's proceeds to Pro Sorata, and the community that it serves.
Both his travels—Huyler grew up in such countries as Iran, Japan, and Brazil—and his work in the medical field deeply influence and inspire his writing. In an interview, Huyler discusses this fusion of experience and fiction: "One of the privileges of my job is that I get to witness people in the midst of truly life-changing moments all the time, and I think it's an enormous advantage for a writer."
Dr. Frank Huyler will read from his works at 8:00 pm on Friday, April 8. In addition, he will participate in the noon panels on Thursday, April 7, and Friday, April 8, and will lead a community fiction workshop at 2:00 on Friday. The panels and reading will take place in the UND Memorial Union Ballroom.
[Allee Mead is a Master's student in English at UND.]