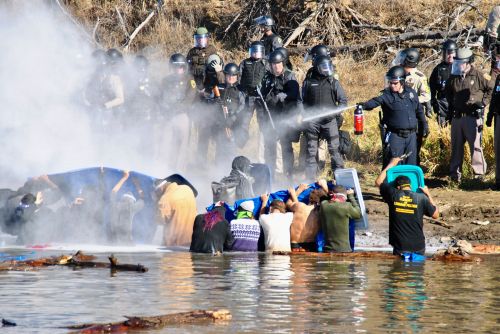 BISMARCK – Legal battles between corporate oil and anti-pipeline interests made shocking claims when lawsuits were first filed, on both sides of the pipeline.
North Dakota courts dismissed hundreds of criminal charges against the 836 NoDAPL activists arrested. While official documents show TigerSwan never received permission to operate within the state, many of the civil charges brought by the North Dakota Private Investigation and Security Board against the private security firm have also been dismissed in court.
And on Thursday, a $900 million counter lawsuit filed in the United States District Court for the District of North Dakota in 2017 by Energy Transfer Partners was dismissed. The lawsuit named in part individuals involved in the protest movement against the Dakota Access Pipeline, and Greenpeace, BankTrack, and Earth First! as defendants, alleging that the organizations violated the RICO Act and were involved in racketeering.
"Justice has been served," Greenpeace USA General Counsel Tom Wetterer said. "This is a huge victory not just for Greenpeace but for anyone and everyone who has ever stood up against powerful corporate interests. Today's decision to dismiss Energy Transfer's baseless lawsuit against Greenpeace and others sends a clear message to companies trying to muzzle civil society that corporate overreach will not be tolerate.
"It is also a check on corporate efforts to silence dissent."
Energy Transfer Partners lawsuit has struggled since it was first filed. On July 24, 2018, charges against BankTrack were dismissed, and lawyers for the plaintiff were ordered to amended complaint because its original had significant deficiencies, which included a failure to point out simple, concise, and direct allegations against the defendants.
On August 6, 2018, Energy Transfer Partners complied, but further named five others as defendants and broadened their case to include other pipeline battles including projects such as Bayou Bridge. Some of the people included in the lawsuit included Cody Hall, a South Dakota resident, Ruby Montoya, an Iowa resident and the press representative for Mississippi Stand, and Krystal Two Bulls, a Montana resident and media coordinator for the Red Warrior Camp.
Energy Transfer Partners alleged the defendants were eco-terrorists conspiring to commit RICO violations, to racketeer in violation of North Dakota law, to criminally trespass, and defame the parent company behind the Dakota Access Pipeline.
In a press release at the time Energy Transfer Partners filed the lawsuit, the company named the defendants as the "Enterprise."
"These terrorist groups also funded their activities and the 'Enterprise' by using donations to fund a lucrative drug trafficking scheme inside the camps."
In the press release, Energy Transfer Partners said while building the Dakota Access Pipeline it was innocent of: encroaching on tribal treaty lands, desecrating sacred sites of the Standing Rock Sioux Tribe, constructing DAPL without proper consultation, and using excessive and illegal force against protestors.
"Other illegal activities directed at Energy Transfer and its executives that are alleged in the complaint include persistent attempted cyber-attacks and telephonic and electronic threats to the physical safety of executives," the press release stated.
Two weeks later the case against Earth First! Was dismissed.
During a 2018 CERAWeek energy conference, Energy Transfer Partners CEO Kelcy Warren doubled down on efforts against opponents of oil pipelines calling those involved were participating in civil insurrection.
When asked by the moderator at the conference about the opposition, Warren did not hide his distaste.
"For example, talking about somebody that needs to be removed from the gene pool, we had people drilling holes in our pipe," Warren stated.