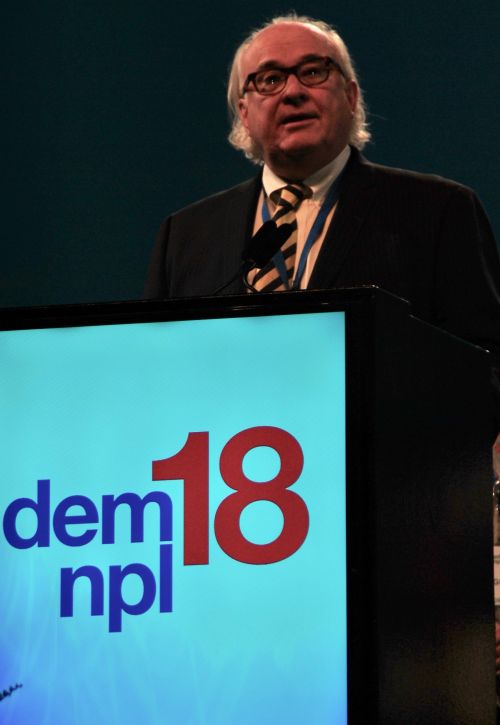 FARGO – Once again, corruption charges were filed against current Congressman Kevin Cramer, who is running for the U.S. Senate.
The complaint, filed Tuesday morning with the Federal Election Commission or FEC by Grand Forks attorney David Thompson, the North Dakota Democratic-NPL candidate for Attorney General for North Dakota, states that Cramer has used campaign contributions illegally for personal use.
The complaint outlined three points: Cramer is giving himself a stipend to live and eat from campaign funds, he's reimbursing himself for travel expenses from campaign contributions, and he has missed deadlines for reimbursements, but paid himself back anyway.
"You're not allowed to use campaign funds for personal use," Thompson said during a press conference.
As a federal officeholder, Cramer is prohibited by law from receiving any salary or stipend from his campaign contribution, but Cramer was reimbursed $253 for "pre diem" meals, which does not comply with FEC regulations.
During the first 43 days since his announcement to run for the U.S. Senate on February 16, Cramer reimbursed himself $1,152.75 and his wife, Kris, $531.38 for a total 3,115 travel miles, a round trip distance from Bismarck to Corpus Christi, Texas.
Citing the Internal Revenue Service's mileage reimbursement rate of 54.5 cents per mile means Cramer would have had to have driven more than 2,115 miles and his wife more than 1,000 miles during 2018's first quarter, while Congress was in session.
"Such a distance is highly unusual and highly improbable for Congressman Cramer given the fact that Congress was in session and he was in Washington, D.C. an overwhelmingly majority of the days of the first quarter of 2018," Thompson said. "It is highly unlikely that these expenses could have been incurred for legitimate campaign activities."
Fudging mileage reports isn't something that should be overlooked, Thompson said. In 2015, Illinois Representative Aaron Schock resigned after allegations reported excessive travel miles that were reimbursed by the federal government.
Thompson, and the North Dakota Democratic-NPL, said Cramer needs to be held responsible, and that reimbursements needed to be paid back in order for him to fall back into compliance with FEC regulations.
"Legally murky and morally sticky maneuvers seem to be the norm for Congressman Cramer," Thompson said. "He has always considered himself above the rules, and cannot be trusted to handle his own campaign finances. Congressman Cramer's behavior goes to show in my estimation the worst in Washington and goes to show why many North Dakotans have lost faith in politics. He has used his campaign as a get-rich quick scheme, and owes North Dakotans an explanation. He is not above the law, or above the rules."
The FEC complaint isn't the first time Cramer has come under attack for corruption.
Thompson led the charge to expose Cramer in 2012 during Cramer's tenure as a North Dakota Public Service Commissioner. The Dakota Resource Council and the Dacotah Chapter of the Sierra Club alleged Cramer took more than $16,000 out of a total of $54,000 in campaign contributions at that time.
"He ran a pay-for-play type operation, and took tens of thousands of dollars in campaign contributions from the coal industry, an industry that he was regulating," Thompson said. "He would take campaign contributions from coal interests associated with specific coal companies that had specific administrative cases in front of the Public Service Commission."
The case didn't include bribery charges at the time, and Cramer received a free pass after collectively spending more than $150,000 in taxpayer money for defense in court, but United States District Judge Daniel Lee Hovland later said that Cramer's actions were, "Ill advised, devoid of common sense, and raised legitimate questions as to the appearance of impropriety."
Using the 2012 bribery case as a backdrop, Thompson raised the new issue Tuesday morning after he filed the complaint with the Federal Election Commission.
"He's used his campaign to enrich himself and his family… it looks like Cramer's nepotism is the tip of the iceberg. Congressman Cramer keeps saying he wants to 'drain the swamp,' but you can't drain the swamp without getting rid of crooked Washington politicians like Congressman Cramer himself."
As a member of the House of Representatives, Cramer makes $170,000 salary per year, but he's doubled his net worth since arriving in the nation's capital, Thompson said. So far, Cramer has reportedly raised $2,425,528, and has spent $867,275 so far during his campaign for the U.S. Senate, according to Open Secrets Center for Responsive Politics. His top donors are in the oil and gas sector, specifically a $58,000 donation from Energy Transfer Equity, which is affiliated with Energy Transfer Partners, the parent company of the controversial Dakota Access Pipeline.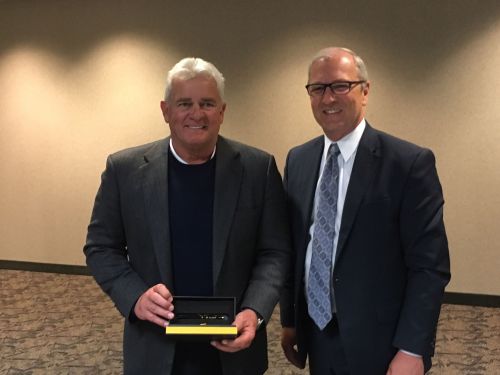 The state could benefit from an ethics commission, Thompson said, as the North Dakota Century Code leaves moral decisions up to the individual. Class C felony bribery however, is clearly outlined under Chapter 12.1-12 of the Century Code as "a public servant is guilty… if he solicits, accepts, or agrees to accept a thing of pecuniary value from nongovernmental sources: as compensation for advice or other assistance in preparing or promoting a bill… as compensation for omitting or delaying official action, or as a fee or compensation for services not rendered or to which he was not legally entitled."
"What's clear is that Kevin Cramer is a crooked Washington politician who has used his campaign committee as a get-rich-quick scheme to con North Dakotans," Scott McNeil, executive director of the Democratic-NPL, said in a press release. "This latest concerning violation is yet another example of Cramer's unethical behavior, and he owes the voters answers and full transparency. Just because he's a politician doesn't mean Cramer is above the rules – we hope the FEC will look into this manner in a timely fashion."
Cramer will be given time to issue a response, Thompson said, and then the FEC will investigate the complaint, after which they may respond by ordering a cease and desist, or file for criminal prosecution.
Thompson has lived in North Dakota for 39 years, and this is the first time he's run for public office because he said it was time.
"I've seen a change in politics, and not a good one in the way we look at our politics, the way people look at government," Thompson said. "It erodes public trust when people see someone take money from special interests… and I've seen people willing to look the other way because we have a booming energy industry right now.
"Corruption will erode our government if it's allowed to continue."
Partisan politics and some companies riding high on Bakken oil frequently say they don't care about such corrupt practices, Thompson said.
"If people really don't care about political corruption, the infestation of money into our political system where people behave illegally to obtain that money, that is a tragedy of titanic proportions," Thompson said. "If people are so numb, that they really believe it's not a big deal to take money as a Public Service Commissioner from a coal company and then rule on a contested case that involves that company, and we have a bribery statue with us? That's astounding. People need to care, they not only should care, they need to care, because the natural conclusion would be the end of Democracy."
Jason Stverak, Cramer's Deputy Chief of Staff, said Cramer's office was aware of the complaint, and directed questions to Cramer's Campaign Communications Director, Tim Rasmussen, who replied by saying the complaint is politically motivated.
"This stunt by the North Dakota Democrat Party is nothing more than cheap political theatrics intended to distract the media and voters from the President's visit tomorrow," Rasmussen said in an email. "The campaign uses a professional compliance firm to monitor and file all reports and is in full compliance with all FEC rules and regulations. The nasty and personal tone of this attack shows just how desperate the Heitkamp campaign has become."