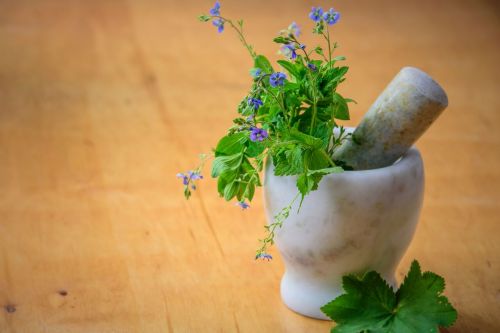 I was amid some of the worst anxiety I have experienced in my life. I was worried about money, moving and multiple other things. My chest felt heavy and was dominated by a feeling of constriction and restriction; to both my life and breathing.
A few weeks earlier I had met with a woman named Juliet Trinka. She is the owner of Vedic Earth Medicine and is a holistic healer and shaman. We discussed setting up a session to work on these issues. While our initial meeting was primarily informational, the thought of being healed by the earth and not a cocktail of pharmaceuticals was a welcome change to the standard of western medicine.
I had been prescribed multiple drugs in the past to help with my anxiety and depression, but none of them were truly successful. The side effects of such drugs are almost as bad as the conditions themselves, and the chemical compounds while described and sanctioned safe for consumption had left me in a few precarious situations over the years, especially when combined with a beer or two. It wasn't until I woke up in the hospital with a broken nose and orbital that I decided that the only solution was a change in lifestyle.
The issue with this treatment path is that I was no longer masking my feelings with a drug. I had to feel and learn about my feelings and understand why I was feeling this way. At times the anxiety became overwhelming, washing over me like a wave of nervousness and tension. I remember laying in bed at times and just feeling my body restlessly churning with the thoughts of the day and the days to come; wondering exactly how I was to survive. The next day I awoke, and I was still alive and moving, and the anxiety would be lessened.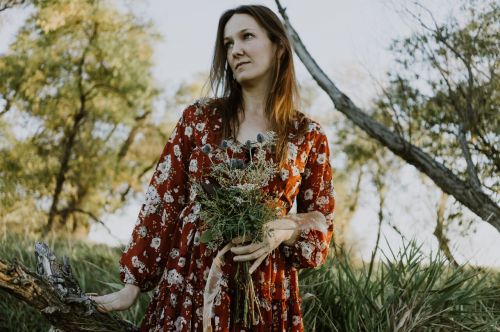 On the day I planned to meet with Juliet for treatment my anxiety was at a peak, and grounding myself sounded like a work of fiction. My chest was tight, and it felt like as I took breaths that my lungs would wrap around a single point in my chest. Like water from a river flowing around a stone, but the stone shall not be moved. Thinking back now, I don't think I could have planned the timing of this visit better if I would have tried.
As I entered Juliet's studio soft music played, and the environment was unbelievably welcoming. She advised me to take a seat on the floor where she had a biomat that was lined with amethyst and produced far infrared waves, which aids in healing and pain. We started by discussing what I was feeling and worked on grounding myself, so that her treatment would be more successful.
I explained the aforementioned and we discussed the difference between anxiety and excitement, both being the same feeling with very different interpretations. The truth being that I was excited for the changes coming into my life, but I was also very nervous about other aspects of these and how they could affect my life. Whilst I knew that these changes were for the better there were aspects which provided both sides of the coin.
We sat in silence for what seemed like an hour. I had my legs crossed and I was focusing on my breathing and bringing my anxiety level down and grounding myself for the treatment. I knew that it wouldn't be successful if I was at such a rampant state, and any effort to calm my nerves may only be temporary and not sustainable.
Once I had brought myself down to a manageable level we continued. She had me lay flat on the floor and she described her methods. We would be focusing on my feminine energy, and my ability to receive the love of mother earth. Receiving is done by the feminine energy and is also fed by the same. Mother earth being the largest feminine energy of all. Juliet explained that if we let go and let mother earth hold us much like her name implies that it can open the soul up to the receiving the energies of the universe.
I let gravity do its work, and I felt as though the floor was consoling me. Sinking deep into the embrace of the spirit of our mother.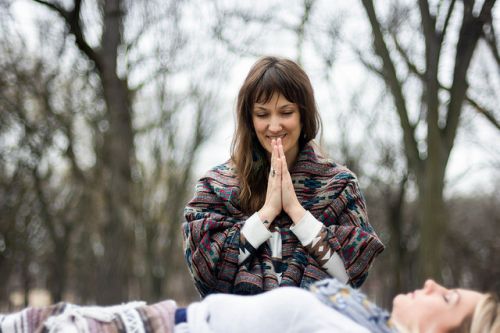 After I was truly feeling this energy Juliet described the next steps. She would be tuning my second and third chakra to the earth, which would also allow them to communicate with each other. To start she held her hand under my heart, and I could feel her energy. She asked me to listen to the rhythm of my heart. Initially I listened to my heartbeat, but after a short time a different rhythm resounded. It was a different from what had been accustomed to listening to. Like a beat I can only describe as latin. As though the Buena vista social club were playing in my chest cavity. Once this step had taken place she placed her hand under my hips where the second chakra is located. As if magic, I could feel the two chakras communicating. While my third chakra was making the rhythm the second was dancing to it. Moving back and forth to the rhythm and dancing in a swaying motion.
I fell into a state of deep relaxation and a feeling of solitude and acceptance washed over me. My anxiety was gone because I was absorbing the love of mother earth and my body was dancing about it. I was sinking deep into the embrace of the earth mother, and she was holding me like a child. The session ended, and I stood up renewed and feeling much better about the days to come. I still can feel what was unlocked that day, and in times of great anxiety I try to feel gravity. To allow myself to be pulled into the embrace of the universe and just breathe…