Last Sunday was a warm, clear, perfect day so Diane and I dusted off our snowboards and ventured to the newly reopened Detroit Mountain in Detroit Lakes. The mountain closed in 2004, but, due to local rallying and fundraising, it has been reopened with new management and a new vision.
The recreation area includes two new three-person lifts, two magic carpets, two rope tows, a Scheels Terrain Park, tubing, rentals, night skiing, a cafe replete with beer and wine bar, outdoor bonfire pits, cross country ski trails, ski and snowboarding lessons, a yurt for special events, overflow space and a soon-to-be-open burger shack. Mountain biking trails were also made last summer making it a year-round recreation destination.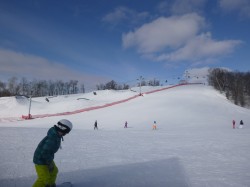 In 2010, a group of community members formed a Detroit Mountain non-profit; they campaigned and raised 7.5 million toward reopening the mountain. They worked directly with city government so the city owns the mountain, but the group of non-profit workers run the mountain under independent management.
Shelly Stowman, marketing, events and snowsports director of Detroit Mountain, told HPR the fundraising campaign really caught on due to the nostalgia factor that was inherent in the mountain. A large number of community members and people from surrounding cities missed having a nearby place to enjoy winter sports. Their desire to experience that again with their children, grandchildren, family and friends was a really powerful component of the campaign process.
Stowman noted, "The efforts and all of the fundraising has been overwhelmingly kind. To finally open the doors and to see the people with smiles on their faces … it's been a dream." Since the mountain opened over Thanksgiving weekend, there have already been almost 20,000 visitors.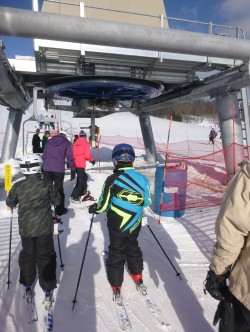 The mountain offers a unique learning experience for beginners called Terrain Based Learning in its Potential Park Learning Area. It's a relatively new trend in the industry and Detroit Mountain is the first place in the Midwest to offer it. It's a popular method of learning out west, in Canada and at larger ski resorts that focuses on teaching new skiers and boarders to be comfortable with bumps in the hill and gradually introduces them to going up a hill using a magic carpet -- which is like a conveyor belt type of ski lift that moves up the hill -- and then skiing down. Then the students graduate to the uphill rope tow and go down a longer bunny hill with wide s-shaped curves formed in them to help students learn how to turn.
From the parking lot of the mountain, Diane and I could see the beautiful new lodge, the cozy yurt and swarms of people. We geared up and took the beginner run "Long Haul" first to warm up and then tried connecting runs "Dixdon," "Sugarloaf," "Pura Vida" and "Mr.O."
We were feeling pretty confident after that so we ventured to the larger runs on the frontside, "Money Run," "Heavy Metal" and "Bad Medicine." Pretty rad names, right? The backside of the mountain offers some steeper runs: "West," "Riptide" and "Gear Grinder," along with the extra challenging "Tommy's Tumble" and "Thunder Road." Diane and I were especially fond of this part of the mountain because the second chairlift seemed a bit more secluded and therefore had shorter lines. It also contained delightful views of Detroit Lake and the city below.
I eventually worked up the courage to go into the terrain park and managed to go over the box jump. I stopped there though, as I didn't want to risk feeling too excruciatingly sore the next day. The park was flooded with young kids doing all sorts of impressive tricks that made Diane and I feel like old losers, but we applauded their skills and boarded on with pride.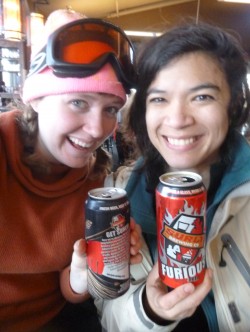 After about two hours on the hill we headed into the lodge for some pizza, nachos and beer. There's nothing more refreshing than an ice-cold beer and a high-carb lunch after boarding your face off. The Mountain Cafe offered everything from taco in a bag to chilli to hot chocolate. The Horses Neck Saloon notably served Minnesota craft beer like Surly and Summit.
After that we were recharged and enjoyed peek sunshine, had some laughs and thrills (and a few spills).
Around 4 p.m., a lot of families with younger children seemed to head home and we were left with a lot of moody teenagers cracking jokes with their friends. It was fun and interesting to talk with the ones that rode up the chairlifts with us. A lot of them had just started snowboarding or skiing that year and had eager, determined sparks in their eyes. Most said they were from Perham, Detroit Lakes or the Fargo-Moorhead area and seemed ecstatic to be there.
When it got dark, Diane and I started to feel our energy depleting so we took our final run and headed in. It was an incredible day of snowboarding and I would love to get back there again soon. To watch a video from our day, go to the HPR website (www.hpr1.com).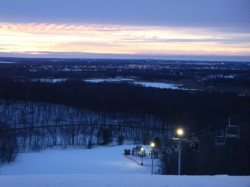 Detroit Mountain will offer a free-style camp on Saturday, Feb. 14 for intermediate boarders and skiers ages 8 to 16. Times are yet to be determined. The hill is also hosting a "Polarpalooza" event from 5-10 p.m. Wednesday, Feb. 11 to benefit their "Ski Angel" Scholarship Fund. The event will include s'mores, burgers, tubing races, a snow sculpture contest and live music from Hardwood Groove.
For more information on Detroit Mountain visit www.detroitmountain.com.

IF YOU GO
Detroit Mountain
29409 170th St Detroit Lakes, Minn.
Open Thursdays through Mondays