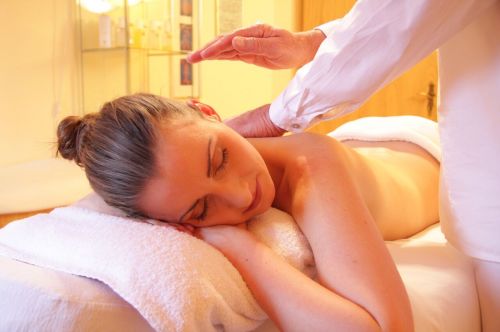 I'm a big man, I'm tall and powerful, but this also causes some issues in the body department. I suffer from acute scoliosis in my lower back, and pain radiates from this area on a daily basis. I have only ever had one massage previously in my life, and it was so-so.
When I began talking to Stephanie Ramsey at In-balance massage about my pain, she advised me to come in for a visit.
I must admit I was a bit nervous. I was looking for a cure to my pain and relief from multiple areas. I wasn't sure she was up to the challenge. She had assured me with 20 years of experience that she could treat almost anything and that she would be the one to see.
On a warm spring morning I ventured in. Her office was adorned with multiple different crystals and even a fountain. It was a relaxing environment and immediately after entering my nervousness subsided. I sat in the waiting room while she prepared the space for my massage.
The room was full of calming energy, and while I then prepared I felt at great ease. I laid down on the table and prepared for what I hoped would be a successful session. I had a tight pain between my shoulder blades that I couldn't shake, so this was the first point that I wished to focus on. It's hard to concentrate on a daily basis when there is pain radiating throughout you.
As she began my body work I could tell that she knew exactly what she was doing and that this would be a truly enjoyable experience. I laid on the table as she traced my pain from point to point. She found the spot in my shoulders, but then also traveled further down my back to multiple different areas that were contributing to the overall issue.
It was amazing to me that she could draw these connections so easily, and that she could literally read my body. There were points of pressure that she could read emotionally also. She described a strong masculine energy causing a block on my right side, and as we discussed my family dynamics and how I was also feeling emotionally. My body just gave into the treatment, and these areas relaxed and released.
The first hour of our session passed quickly and with much relief. I felt excellent. I was thinking clearer, and my overall energy was changed, but I was still suffering from jaw pain, and I was still a bit tight in other places. I can only contribute this to my lack of self-care over the years. It has always been my thought processes that I should just deal with the pain or to just stretch it out and pop a couple Advil's. Keep working, keep moving, and keep going.
I returned a few days later for my second treatment. She had hardly dug into my back, and she expressed that with a bit more time, she could get these areas worked out. She did as she claimed and continued to release areas of emotional and physical tension.
Ramsey has a way with her energy and reading her clients. She can sense your energy and help to improve the flow of things by working the body in particular ways. We delved deeply into my past and into my areas of fear and contention. I was most amazed when she knew things about me by reading my body that I had never told her. You can call this quackery, but the results are self-evident. There is no other word than relief. Emotional and physical. I wouldn't go as far as to call Ramsey a miracle worker, but the change in my body and how I was feeling was miraculous to say the least.
On my third visit we did some deep emotional work, and while I ended up bawling on her massage table because when I say we went deep, I mean it. I left a new man. Full of energy, and fervor. I had been released of some of the deepest pain in my life, and I had been freed.
If you are trapped in your own head, if you are trapped by pain or even if you just need a mind, body or spiritual alignment. I fully recommend seeing Stephanie Ramsey. She will treat you fully and leave you with a relief like you've never known.