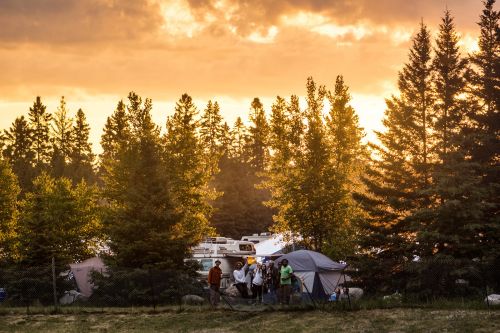 Even though it might not feel like it--summer is upon us and festival season is on in full force! Our staff has poured their blood sweat and tears into our top festival picks of the summer. To make it easier on all involved we've picked our top Music, Culture, Food, and Outdoors events going on throughout North Dakota, Minnesota and a little Manitoba too. After seeing everything that's going on, if you're bored this summer--you must be doing something wrong!
Music Festivals:
Missouri River Bluegrass Festival June 14-15 Cross Ranch State Park, near Center, ND One of Cross Ranch State Park's longest running events--this year the Missouri River Bluegrass Festival celebrates 29 years! Cross Ranch partners up with the Missouri River Bluegrass Association. Check out a variety of bands, jams and interactive workshops. Camping available.
Velkommen to the Jungle June 14-15 Harold's on Main, Moorhead, MN Harold's is causing quite a stir and it's not just the cocktails! Check out The Cactus Blossoms, Dusty Heart & The Cropdusters on Friday and Har Mar Superstar, Green/Blue & disappear forever on Saturday. Moondance Jammin Country Fest June 20-22 Walker, MN Country music lakeside! Featuring the talent of Blackhawk, Neal McCoy, Aaron Watson, Noah Guthrie and many more.
Rock the Garden Saturday, June 29, 1-10pm Rock the Garden, 725 Vineland Place, Minneapolis, MN Two stages featuring the sounds of The National, Courtney Barnett, X, Heart Bones, Dem Atlas, Bad Bad Hats, Adia Victoria, The Beths.
ND Country Fest July 11-13 Morton County Fairgrounds, ND Cowboys and cowgirls join in cahoots ND Country Fest will have ya dancin' in yer boots! Charlie Daniels, Ozark Mountain Daredevils, Travis Tritt, Danielle Bradbery, David Lee Murphy, Jake Owen and more. See some of the region's best country acts under Salem Sue--the World's largest Holstein cow. Weekend passes and campsite tickets are available.
Winnipeg Folk Festival July 11-13 Birds Hill Provincial Park, Winnipeg, Manitoba Situated in a beautiful provincial park, hike, bike, swim and enjoy the sounds of Death Cab for Cutie, Kacey Musgraves, Jason Mraz, Half Moon Run, the Sheepdogs, K'NAAN, Alvvays, Charlotte Day Wilson, Kathleen Edwards, Colter Wall, The Lone Bellow, The Devil Makes Three, Car Seat Headrest, Snail Mail and more. Experience workshops and once in a lifetime jam sessions featuring some of your favorite artists
Basilica Block Party July 12-13 16th St and Hennepin, Minneapolis, MN Celebrate the 25th anniversary of the Cities 97.1 Basilica Block Party. Featuring the talent of Kacey Musgraves, Dawes, Anderson East, Ruston Kelly, Semisonic, The Jayhawks, and Yam Haus.
Prairie Pothole Festival July 18-21 Aurora Knolls, Anamoose, ND Six miles north of Anamoose North Dakota, a three day event that revolves around music , camping and nature. Annual kayak race, luxury campsite contest and a large variety of lawn and yard games , art and food vendors. Featuring a variety of genres including jam bands, electronic, folk, hip hop, blues, rock and bluegrass.
Fargo Blues Festival July 26th - 27th Newman Outdoor Field, Fargo, ND A summer tradition going on 24 years strong. Featuring some of the top blues act from across the country. For full festival lineup stay tuned to http://www.fargobluesfest.com/
WE Fest August 1-3 Detroit Lakes, MN 36 years and growing strong--can you believe WE Fest is one of the leading country music festivals in the nation? Shape up your cowboy hat and polish your boots because there's dancin' to be done. Chris Stapleton, Brooks & Dunn, Keith Urban, Leann Rimes, Billy Currington and many more...
Center Fest August 9-11 Robinson, ND Robinson may no longer be the "Geographical Center of North America," but it can still be the center of attention! Two stages of live original music, art, crafts, dancing, cold beer, general good-natured mischief and howling at the moon. Keep an eye on their facebook page for updates. Camping available.
6th Annual Bohemian Family Ramble August 2-4 The Bohemian Barn, 1372 190 St S, Wolverton, MN Featuring The Quarterly, Hardwood Groove, The Righteous Songs, The Knotties, The Stovepipes, Confusion, The Dank and more to come. This is a family-friendly music festival in western Minnesota, complete with great food!
Bluestem: 50th Anniv. of Peace & Music August 16-17 Bluestem Amphitheater, 801 50th Ave S, Moorhead, MN Featuring over 100 local musicians across several stages performing over 20 sets from the original Woodstock lineup. Featuring the talent of Post-Traumatic Funk Syndrome, Diane Miller, Jessie Veeder, Pat Lenertz, Ron Kerber, Jake Ingamar, Merrill Piepkorn, Jake Schaefbauer and more… Moondance Jam July 18-20 Walker, MN Moondance is known for bringing on the rock. This year's lineup features Lynyrd Skynyrd, Molly Hatchet, Train, Survivor, The Goo Goo Dolls, Candlebox, Vixen, Gov't Mule, Rick Springfield and more!
Cultural Festivals
Devil's Run May 31-June 2 Devils Lake, ND This year marks 27 years of Devil's Run--North Dakota's largest car show! Live music by the Roosters and Kenny and the Classics. Check out a Drive-in movie, the Devil's Run Parade and more!
Polka Fest June 7-8 Downtown Hankinson, ND "Roll out the barrel, we'll have a barrel of fun!" Barefoot Becky & the Ivanhoe Dutchmen, Matt Hodek's Dakota Dutchmen, Malek's Fishermen Band, Julie Lee & her White Rose Band and more. Featuring indoor and outdoor dance floors. RV parking, concessions, drinks and dinner are available.
2019 High Plains Rendezvous June 16-22 Sheldon, ND Experience a "living history" event that focuses on the Fur Trade Era, Pre-1840. The public is welcome from 10 am until 5pm each day. After 5pm period correct clothing is required! Nestled along the Sheyenne River, experience music, black powder shooting, tomahawk throwing, knife skills, primitive cooking, fire starting, water games, and more.Traders will be on hand if you need to meet the dress code!
Scandinavian Hjemkomst & Midwest Viking Festival June 21-22 Historical and Cultural Society of Clay County, 202 1st Ave N, Moorhead, MN Our friends in Clay county are bringing together an international collection of chefs, artists, musicians, storytellers, historians, and vendors to immerse you in the Nordic roots that planted themselves so prominently in our Red River Valley communities. This festival is all about local history and global communities – with a focus on Denmark.
Mandan Rodeo Days July 2-4 Dacotah Centennial Park, Mandan, ND Mandan Rodeo Days is North Dakota's oldest & largest professional rodeo held annually on July 2-4, the first of which was held in 1879! This citywide celebration is known to draw more than 20,000 people for three days of family fun including the rodeo, rodeo queen and princess pageant, huge fireworks display, Independence Day Parade and other special events. Fort Ransom Sodbuster Days July 13-14 Fort Ransom State Park, Fort Ransom, ND Celebrating the days of team-driven farming methods in the beautiful wooded valley of Fort Ransom State Park. Wheelwright Demo, Horse Powered Threshing, Haying Demo, Interdenominational Church Service, parade, and old time music.
The 2019 Badlands Ukrainian Days July 19-20 Belfield, ND A family-friendly Ukrainian experience featuring the best of North Dakota's Ukrainian heritage including Ukrainian dance, food, drink and folk craft. Live music by Soloway and performances by Stepovi, North Dakota's own Ukrainian dancers. Saturday night features the ultimate Ukrainian party, Zabava!
Keplinfest August 2-3 3750 BIA Road 10, Belcourt, ND According to North Dakota Tourism, "Keplinfest was named #1 for The 10 Best Small Town North Dakota Festivals You've Never Heard Of, selected as 1 of the top 100 festivals by the American Bus Association in North America." Traditional Metis cultural festival Located seven miles west of Belcourt, ND. One can anticipate two days of fiddling, jigging and high energy dancing. Along with music check out the food and craft vendors. Primitive camping is also available.
German Folk Festival Saturday, August 3, 12-5pm Rheault Farm, 2902 25th St S, Fargo, ND Experience traditional German folk craft demonstrations with everything from lace making to blacksmithing. Crafts for the kids and a beer garden for the thirsty adults--needless to say there's something for everyone! Experience German food and dance to German music and polka the night away.
Deuce of August August 2-4 Mountain, ND Running 120 years strong, "The Deuce" is one of the longest running ethnic festivals. A true celebration of Icelandic heritage and often graced by Icelandic dignitaries. Experience food, fun and tradition.
Winnipeg Folkorama August 4 - 17 Winnipeg, Manitoba The largest & longest-running multicultural festival of its kind in the world. Celebrating cultural understanding and diversity since 1970. Experience global art, music, dance and culture. For more information visit: www.folklorama.ca
FM Pride August 8-11 Fargo, ND FM PRIDE unites and engages individuals and organizations to empower, educate and support the LGBTQ Community. Parade, food, fun, 5K run, music, dancing and most importantly unity! Save the date more info to come via fmpride.com. Speaking of Pride, don't forget about Twin Cities Pride June 21-23!
Outdoor Festivals and Events:
Blue Goose Days and Wahpeton Sesquicentennial May 31-June 2 Wahpeton, ND The city of Wahpeton celebrates 150 years this year and--gee--it sure ages well! Festivities include a community rummage sale, street fair, street dances, fishing and softball tournaments, races, food vendors, crafts and more! Explore Chahinkapa park and zoo and while you're there take a spin on the Prairie Rose carousel!
ND Game and Fish Free Fishing Weekend June 1-2 North Dakota If you're a North Dakotan and want to try your hand at fishing this is your weekend! Residents 16 and older can fish any North Dakota water license free during the state's Free Fishing Weekend. Residents under the age of 15 do not need a fishing license. Information and regulations on fishing waters is available on the Game and Fish website at: gf.nd.gov
Jamestown Kite Festival June 7-9 Meidinger Park, Jamestown, ND If you like kites, fly kites, make kites, want to learn how to make kites, or want to know more about kites, this is exactly where you want to be. North Dakota has a fair share of nationally recognized kite enthusiasts and festivals that draw people from all over the US and Canada.
Bull Moose Mudrun Saturday June 8, 1-4pm Medora, ND The Bull Moose Mudrun is an obstacle course that takes place out in the Badlands. This particular Mudrun was inspired by Teddy Roosevelt's daily routine, that he designed because he thought Americans were quote, "getting too soft!"
Badlands 24 Hour Race June 22-23 CCC Campground, Watford City, ND Whether you race, run or bike all races start at 9:00am at the campground and all time options can be completed solo or with a team. Miles can be logged on the full 11 mile loop or the short two mile loop. All bikers will travel counter-clockwise. All runners will travel clockwise.
Tour de Rendezvous Region Saturday, June 29, 11am-4pm Homme Dam, Park River, ND This bike race has two routes. One covers 20 miles the second covers 60 miles. Racers will start and finish at Homme Dam, participants will also cruise through Park River, Edinburg and Grafton. Proceeds benefit promoting tourism in the Rendezvous Region. Participants receive a t-shirt and the top finishers receive a rendezvous Region gift package.
Vinnie's Mud Bog July 19-21 Near Hankinson, ND Ready to get muddy buddies? It's the muddy motorsport of the year with this offroad extravaganza. For those unfamiliar with the sport, winners are determined by the distance traveled through the mud pit. Not all of the fun features four wheels…a mud volleyball tournament will also be onsite. All you need to do is assemble a team. Dance to live music at the end of the night with music from Face for Radio and Silverado. For directions visit: http://www.vinniesmudbog.com
Festival of Sail Duluth Duluth, MN Stand on the shore of the Greatest Lake and experience the Festival of Sail Duluth 2019 for a rare chance to see, step aboard, and even set sail on some of the grandest ships of yesterday. Learn about the region's history featuring ship tours, day sails, food, drinks, and entertainment for all!
Fort Stevenson Regatta Saturday, August 24,12-2pm Fort Stevenson, Garrison, ND Come to experience a Sailboat Race and stay for the beach party. Regatta is headquartered out of the deTrobriand Marina Lodge with a Captain's meeting at 9am then racing starts at noon. The course is between eight and ten miles dependent upon weather conditions. Spectators can view the race from the bluffs overlooking Lake Sakakawea. Live bands and carnival style entertainment.
Dakota Nights Astronomy Festival August 30-September 1 Cottonwood Campground, Medora, ND Astronomers, rangers, and historians come together for a three-day festival celebrating the starry nights and heritage of North Dakota. Discovery Dome Theater, kids' crafts and activities, rocket building and launching, solar viewing, and solar system hikes.
Art
Street Fair at the lakes May 31-June 1 806 Summit Ave, Detroit Lakes, MN With over 130 arts arts and crafts booths, delectable fair food, live music, children's activities, beer garden, and more…
Downtown Arts Market Every Thursday, Jun 6 - Aug 29, 5:30-8:30pm The Arts Center, 115 2nd St SW, Jamestown, ND Downtown Jimtown comes to life with live entertainment, artisan vendors, creative activities and cultural events in the beautiful Hansen Arts Park. Experience everything from West African drumming to hometown heroes gracing the stage.
Northern Spark June 14-15, 9pm-2am Minneapolis/Saint Paul, MN Performance based and visual art celebrated under the urban landscape of the Twin Cities. A two-night art festival that runs from sunset to 2 am each night. This year's theme is "We are here: Resilience, renewal and regeneration." For full artist lineup visit: https://2019.northernspark.org
Pekin Days Art Show June 26-30 Pekin, ND Talk about the little art show that could! Can we give three cheers to the Nelson County Arts Council? This city of 100 has been known to draw close to a thousand for THE North Dakota art weekend of the year. Juried art show, live music, food and craft vendors. Camping available.
Phelps Mill Festival July 13-14 Phelps Mill County Park, Underwood, MN The area's largest art and craft event of the summer. Two full days of art, food, entertainment, & kids' activities fill the Phelps Mill County Park. High quality artists in a variety of work. In addition to shopping. Featuring live music and a variety of ethnic and American foods.
2019 Downtown Fargo Street Fair July 18-20 Downtown Fargo Enjoy art, crafts, and food from a variety of vendors during North Dakota's largest free outdoor event--the 44th Annual Downtown Fargo Street Fair. A new feature this year is the addition of Can Jam, a celebration of street art!
Capital A'Fair August 3-4 North Dakota State Capitol grounds, Bismarck, ND Capital A'Fair is one of the area's largest summer art fairs. Featuring over 130 artisans from across the country, it attracts thousands of visitors from throughout the region. Enjoy music,food, performing arts groups and children's activities.
Fiber Arts Festival Aug 3-4 Hartl Building at RRV fairgrounds, Fargo, ND Experience our region's fiber art community. Shop various vendors whether you're looking for supplies or looking to shop beautifully crafted handmade items. Vendors include Dakota Fiber Mill, Vintage button trading company, The dying arts, and many more!
2019 Grand Forks Street Fair August 23-24 Downtown Grand Forks, ND Fourth Annual Downtown Street Fair will feature food vendors, artists and live music.
Island Park Show August 24-25 Island Park, 302 7th St. S, Fargo, ND Explore 125 different arts and crafts booths. This juried show includes anything from handmade baskets, pottery, handcrafted wood items and more...
Food
All Pints North Saturday July 27, 3-7pm Bayfront Festival Park, 350 Harbor Dr, Duluth, MN Join the Minnesota Craft Brewers Guild by the shores of Lake Superior and celebrate craft beer. All Pints North features beer from 120+ Minnesota breweries. Experience live music and tasty vittles in the splendor of the greatest lake of them all.
Chokecherry Festival August 9-10 Williston, ND Did you know that the chokecherry is North Dakota's state fruit? We learn something new everyday! Come out to Williston and celebrate it.Food and craft vendors, live music, children's activities, 5k run, free pancake breakfast and much more.
Fargo Food Truck Festival August 16-18 North Dakota Horse Park, 5180 19th Ave N, Fargo, ND For the best food on two, three, or four wheels you won't want to miss this festival!
10th Annual Summer Beer Dabbler Saturday, August 17 CHS Field, 360 N Broadway, St. Paul, MN a unique craft beer event featuring over 130 breweries sampling over 400 beers. This craft beer festival takes place at the home of the St. Paul Saints! This event will also feature live music and ballpark fare.
Dia Del Taco Fest! Saturday, August 24, 12-7pm Fargo Brewing Company, 610 University Dr. S, Fargo, ND Fargo's first taco fest? We're down. Taco Fest will feature two sessions; Uno and Dos. Experience unique local vendors tasty taco renditions and sides. Enjoy hand-crafted margaritas and specialty brews thanks of FBC. Live music, and friendly culinary competitions and the Don Julio Tequila tasting will be making a comeback.
Barnesville Potato Days August 23-24 Barnesville, MN With events such as mashed potato wrestling and Miss Tater Tot Pageant what's not to love and what's not to celebrate about the spud? There's also a killer parade, delicious food and home-fried small town hospitality.
Sister Cities Smokeout August 29-30 Bluestem Amphitheater, 801 50th Ave S, Moorhead, MN Two full days of hot BBQ, live tunes and cold beer. Who could ask for anything more? Featuring entertainment byNathaniel Rateliff and the Night Sweats, Little Big Town and more!
94th Annual SauerKraut Day Wednesday, October 9 Wishek, ND The most wonderful day of the year--if you love sauerkraut! The sauerkraut meal is served between 11am-1pm, but be sure to stay and check out the pie social at the Baptist Church, vendor show at the armory and bingo. Be serenaded by the sounds of German music. Also remember to pack a cooler. Wishek is known statewide for their sausage.
Wild Food Fandango Sunday, June 9, 1-9:30pm Keg and Case Market, 928 West 7th Street, Saint Paul, MN One of the largest annual chef-driven food events in Minnesota with 16 competing chefs. Chefs will be selecting from a pool of wild foods provided by Forest to Fork. Guests will have a chance to sample from all competitors and cast their vote for the winning entree. Clutch Brewing Company will be on hand and festival goers can anticipate wild cocktails and live music.
Happy Harry's Ribfest June 5-8 Fargodome Parking Lot Rib vendors from across the board engage in a friendly competition with the goal of winning over the crowd and judge's taste buds. Live entertainment each day featuring Vince Neil, Russell Dickerson, Sawyer Brown, Firehouse and KIX.