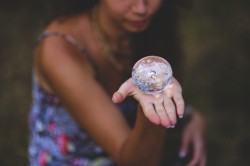 The 11th annual Fargo Holistic Expo returns to the Fargo Civic Center this weekend, April 22 – 23, bringing with it an array of workshops, talks and exhibitors. The event is presented by Edge Life Expos and Events.
Almost 40 free workshops come with the cost of a general admission ticket. Workshop topics include women's health, spirituality, astral projection, dimensional travel, secrets of staying youthful, psychic gifts, past lives, weight loss and empaths.
Three keynote speakers are Jodie Harvala, Tracy Kouba and Chandra Parkinson -- all with local connections. Two of the speakers live here and one used to and now lives in St. Paul. Speaker tickets include admission to the Expo Hall and free workshops.
Gary Beckman's mission for Edge Life, which puts on the Expo, is "the integration of health, wellness and spirituality across all boundaries, social strata, and religious confines in a common theme of spreading peace and wellness one person at a time. Many people desire an education and we provide a wide array of tools and opportunities for personal growth, especially in these trying times."
Gary says he's promoting this event because "I like to promote something called love… from the heart." He says acceptance by the Fargo community "has been great."
Seventy-five percent of attendance is female; Gary sees mothers, daughters, sisters, and cousins coming together. He remembers the first Holistic Expo in Fargo. At the close of the event, he says, "A woman in her seventies, about the age of my grandmother, sought me out to thank me for 'bringing this event to Fargo.' It felt good to hear that."
Gary estimates 1700 attendees over the weekend. One of the local attendees will be Stephie Basol, from Fargo, who says that she is excited to check out the Aromatantra booth among many others. As a frequent past attendee, Stephie adds that, "If you are in the process of some serious soul searching, there are a ton of psychics and mediums. I really want to check out the essential oils offered also." Stephie adds: "What I have enjoyed the most from past years is no judgment. Everyone there is open minded. I bring my book of stones and I buy tons of crystals and rocks for holistic benefits."
Another local attendee, Sarah Byrne Anstett is interested in attending Tracy Kouba's seminar on "Living Your Best Life." She says, "I am always looking for some means to achieve my best self, to varying degrees of success." At a past expo, Sarah had her aura drawn by a psychic: "It's red if you are wondering."
Jodie Harvala, Fargo resident and self-described "Psychic/Medium, Spiritual Mentor, Bad-Ass Space-Clearer, Speaker & Teacher" will be giving a talk on "Who Were You in a Past Life? Have You Ever Wondered?" on Saturday at 2pm, and also an all-day post-expo workshop on Monday on "Past Lives — A Trip Down Memory Lane."
Jodie has been in business as a psychic and medium for over ten years. She feels like she was "led to this work – a little bit kicking and screaming at first when it was time to actually tell people what I did – but the education and classes and study were my favorite part."
If you attend either of her talks, Jodie says to expect surprises and audience involvement: "I want them to have the experience – not just sit up on stage and talk about it. I am teaching about past lives and they are always a fun and magical topic of interest for people – they may be surprised how they show up in a past life."
She also says to expect "healing" and that "being able to see ourselves in that past life gives us a whole new perspective on the current life we are living."
Skepticism does not bother her, saying that "in this world, skepticism is a good thing" and advises people to use free will and choice: "Learn to know when your heart is telling the truth. Don't give your power away to someone else you meet for a short time" and that "we are all responsible for our own lives."
She sums it up with, "Psychics and mediums are a beautiful way to enhance and teach you the ways to connect to your own inner spirit and your own truth."
Jodie also clears spaces – such as homes: "Our spaces are some of the most important pieces in creating a healthy vibe around us. Many people come home from work and have all these plans and then they get home they are almost pulled to the couch and turn on the television as soon as they can. That tells me the energy is off." Jodie says clearing spaces of old emotions and unsupportive vibrations or even spirits "won't solve all your problems but it does help to open up the energy to new opportunities."
Keynote speaker Chanda Parkinson is a professional psychic intuitive, spiritual teacher and "divine bringer of wisdom," and will present "Messages for Clarity and Healing" at noon on Saturday. This talk is to "help explain how you individually contribute to the collective experience of humanity right now in the course of our history."
Tracy Kouba, a Master Life Coach, will present "Living Your Best Life!" at 1 pm on Sunday. This talk is designed to "offer insight on simple things that can be done to get you to where you want to be in your life," including removing "past traumas and blocks in the subconscious that stop you from being your best you."
One of the exhibitors this weekend is Jade Rehder, from Ashland, Oregon, originally from Felton, Minn. Jade does "'Goddess energy readings' that shed light on what energies are affecting your experience." Jade says these readings support people to "understand how their energy and emotional fields work and how to break through the barriers that are shrinking the happiness and joy they know they deserve." Jade will be offering short readings and laser coaching sessions. Jade also works with empaths. She will be doing a presentation Saturday at 3 pm entitled "Empaths Waking Up the World" where she will "share my number one way for empaths to protect themselves" along with describing the 11 empath types.
Another exhibitor is Frank DiCristina from Minneapolis. Frank is a Dowsing Practitioner and a Harmonic Sound Therapist. Frank deals with sound's "tremendous influence over our bodies. It touches us and influences our emotions like no other source." He finds that gongs and Himalayan singing bowls "provide psycho-acoustic openings to heightened states of awareness and consciousness."
He works with individuals to select a singing bowl in a subjective and intimate process. These singing bowls are believed to contain healing powers and "more and more therapists are experimenting with the singing bowls and their effects on brain waves by using new measuring equipment to discover which brain waves are affected by the vibrations."
He will also have dowsing tools and crystals for sale. Frank says that if time and space allow, he will bring his Aura Camera to "verify changes in the aura when I do healing work."
Jodie Harvala gives this advice to attendees: "Get educated about what our work is about. We are not all the same. I tell people to come in the door and make a few laps and see what table you start to stalk a little bit -- that is usually the person who has some information for you.
Get a reading. Have some fun. Be light and fun with your experience! And to always ask questions is my main advice."
IF YOU GO
11th Annual Fargo Holistic Expo
Sat April 22, 10 am-6 pm; Sun April 23, 10 am-5 pm
Fargo Civic Center, 207 4th St N, 701-241-1480
Tickets range from $7 to $9 and discounts are given for multiple tickets; June 24 Post-Expo Workshop with Jodie Harvala ticketed separately.
http://edgelife.net/fargo-holistic-expo