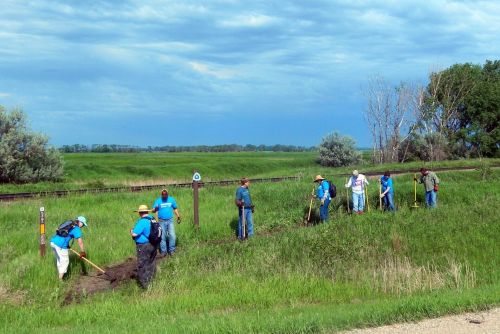 As Mother Nature begrudgingly transitions from winter to spring and summer, getting outside to soak up the sun and breathe in the fresh air is on everyone's mind. For those looking for that, plus adventure, there is something right outside our backdoor that offers all three – the North Country Scenic Trail.
The North Country Scenic Trail weaves its way 4,700 miles between Lake Sakakawea in North Dakota along the northern United States all the way to Crown Point, New York. Originally established in 1980, the North Country Scenic Trail gives hikers a unique opportunity to see some of our country's beauty from a perspective that cannot be viewed behind the windshield of a car.
The North Country Scenic Trail is one of 11 trails in the United States and is part of the National Parks system. As of last month, the trail officially connects to the Long Trail in Vermont, which connects to the Appalachian Trail. So, according to Rennae Gruchalla, a person can get on the trail in Georgia, and hike all the way to Lake Sakakawea in North Dakota.
Gruchalla serves as vice president of The Dakota Prairie Chapter, which builds and maintains a 95-mile stretch of the North Country Scenic Trail in North Dakota. Her chapter is one of 30 along the entire trail.
"Our chapter's trail comes in from Minnesota at Abercrombie and weaves its way through the National Grasslands down by McLeod and Lisbon, through there west of Lisbon through the Sheyenne State Forest," said Gruchalla.
Gruchalla is one of about 140 members of the local chapter and consists of volunteers who help build and maintain the trail. This includes mowing grass, trimming branches, cutting down trees, and making sure the trail is clean and safe. She said members of the chapter divide up the workload.
"My husband and I and another couple maintain a 3.5-mile portion of the trail," she said. "We do it three or sometimes four times a year. Now, we have done it once. We will probably do it again, depending how fast the grass grows, but usually we do it twice during the summer and then maybe once in October at the end."
Ensuring signs are visible for hikers is also part of maintaining the trail.
"You never would get lost," Gruchalla said. "We have signposts. When you get to one sign, you can see the next sign. If there's trees, we put a blue blaze we paint on a tree. As maintainers, we have to make sure [signs] are standing up."
Gruchalla said building has some of the same aspects as maintaining trails, but is more involved.
"It's a lot harder," Gruchalla said. "When you maintain, the trail is already there. When you make brand-new trail, a lot of times, you have to cut trees down, cut branches. You're starting with bare land and making a trail."
Gruchalla said the reason they are still making trail is because some of the trail is currently along roadways due to the North Country Scenic Trail not having access to certain private land. She said there is only about 4 percent public land in North Dakota, so they have to get easements to be able to make trail on private land.
"In North Dakota, out of the 430, approximately 260 miles is on actual trail," Gruchalla said. "The rest is still on road."
Gruchalla said gaining access to this private land is a work in progress, but they are adding more all the time.
Along the trail, hikers will find campsites and, if they reach out to the North Prairie Chapter ahead of time, they will be on the radar of the chapter and within reach of Trail Angels who are volunteers who will give hikers rides, offer their yards for campsites, and even offer washers and dryers to hikers to launder clothes.
This summer, they have another project that she is very excited about.
"The area we're going to do this summer, on the south side of the Sheyenne River going to Lisbon, that's a lot of field," Gruchalla said. "There'll be a lot of mowing. There won't probably be a lot of trees. We'll have to do all the signage. It's going to be beautiful. When you're up there, you look over to the north, over the Sheyenne River, it's a really nice view. It's going to be a good part of the trail."
Making and maintaining the North Country Scenic Trail is a necessity to be able to hike, but Gruchalla does her fair share of that as well. She said she and members of her chapter hike at least once a month all year round, and that is the rewarding part of the North Country Scenic Trail.
"We had a snowshoe hike in January," Gruchalla said. "We had a dozen people that braved the weather and came out. We hiked out to the campsite, made a fire, and had hot chocolate and cookies. We sat around there for a half-hour and then hiked back. We do this all the time. When you do something like that – it happened to be -3 (degrees) – if you're out there in nature and in the cold all bundled up snowshoeing and then you make some hot chocolate, I tell ya – no matter if you knew that person or not prior to the hike, you know them by the time you get back. It's really neat."
To learn more about the North Country Scenic Trail, visit www.northcountrytrail.org.
The Dakota Prairie Chapter can be reached on their Facebook page by searching NCTinND, or on Meetup at https://www.meetup.com/NCThikersinND/.