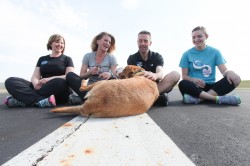 More cowbell, please! The runners are coming through. It's time to make some noise, eat pasta, drink lots of water, hand out lots of water, run far and go fast, etc. Maybe cheer on Will Ferrell?
The fun begins next Thursday. The year's events include four major races, a speaking event featuring Olympic medalist Deena Kastor, a two-day health and fitness expo, a downtown pub crawl and concert.
HPR sat down with Fargo Marathon director Mark Knutson, who talked about what's new this year, his career as marathon director and much more.
Marathon "college" course
Unlike other close-by marathons like the Twin Cities and Grandma's, the Fargo Marathon changes its course every year.
"I like it partially because it engages other parts of the community," Knutson said. "I sent a letter out to the people living on the course about a week ago (March). And I get a really good response from people who haven't been on the course previously but are on the course now."
For the first time ever the Fargo Marathon course will go through all three major universities in town. The course has run through North Dakota State University and Concordia in years past, but has always excluded Minnesota State University Moorhead. Knutson, an alumnus of MSUM, said his ties to the university are one major reason for the decision to veer the course out to his alma mater for the first time.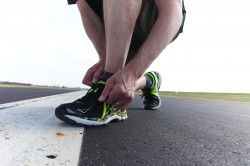 MSUM president Anne Blackhurst qualifying for the Boston Marathon at last year's Fargo Marathon also helped trigger the decision. Knutson made the announcement last fall, when the president ran 50 laps (12.5 miles) around the school's track to raise funds for student scholarships.
"It's definitely come to fruition because they have a committee organized over there just to plan the party when the runners come through," Knutson said. "Oh man, it's a big deal. They were showing me they've got these maps and where everybody is going to be sitting and everything."
Going through campus in early May works out well because the students are still around.
"On the flip side, on the other side of the river, NDSU is doing the same thing. They are doing a very good job of reaching out to us, with the residence life group there, getting those kids dialed in, the ones that are still living on campus. They are going to have fun. And there are three, four fraternities/sororities right on University and 13th and 14th Avenue, they are going to come out in full force."
An indoor start and finish
For the first time ever, the races on Saturday will start inside the Fargodome.
Knutson started thinking about this idea last October as he put the on the most recent Fargo Mini Marathon, which started and ended in the Fargo Civic Center.
"And then coincidentally that afternoon, when the race was over, we had tickets to the Bison game. So we were at the Bison game that afternoon and I'm sitting in there, and you know what it's like at a Bison game, it's just crazy. It's wild. It's exciting. There are fireworks going on," he said.
"And then I start putting the two together and I thought, gosh I wonder if we could do what we did this morning where we could start everybody from inside the arena, maybe we can do the same thing at the dome. And I was looking at the seats and I know how many people can fit into the Fargodome. I think we can pull it off."
The weather on the day of the Fargo Marathon has been "iffy" most years, Knutson added. It's made setting up an outdoor start line, stage, PA system, jumbotron, toilets and other essentials more difficult. Besides, all of that is already located inside the dome.
"So do we really need to duplicate that? It's labor intensive, it's expensive," he said. "You're going to deal with the elements."
Runners also usually have to wait anywhere between 10 to 30 minutes at the start line in the cold. This way, runners' bodies can stay warmed up before the race.
#ferrellrunfargo
Will Will Ferrell run Fargo? The marathon staff, along with hundreds of community members on social media, thinks it's worth a shot to at least try to lure him.
The world-famous comedian ran the Boston Marathon in less than four hours in 2003. He's also been on the cover of Runner's World magazine, which in fact just did a story on the community's efforts to get Ferrell to run Fargo.
"We had it on social media, and the next thing you know last Friday we got a call from this guy named Kit Fox, and he's a writer for Runners World," Knutson said.
The chances of getting Ferrell to Fargo may be slim because he is currently promoting his latest flick "Get Hard," so he's more than likely not in shape to run a full marathon. Though Knutson said even if he comes to run the 5K, the community would be ecstatic.
"I thought, well maybe in our craziest dreams if he shows up then maybe every year we go out and garner some big celebrity to come in, whether they are a runner or not. Maybe even just to be a part of the 5K," Knutson said.
Will a downtown marathon happen again?
Fargo Marathon's 10th Anniversary landed on the perfect day last year. Runners and staffers were fortunate because of the races' outdoor start on the bridge and finish on Broadway in front of the Fargo Theatre.
"The cool factor was 110 percent that day, it really was. And the dome has a cool factor as well. They are both very exciting and very fun, but being able to finish downtown, having the beautiful weather we had, it was an ideal setting for us last year," Knutson said.
On the flip side, setting up a start and finish line downtown is a lot more labor intensive. And the unpredictability of the weather also makes operations risky.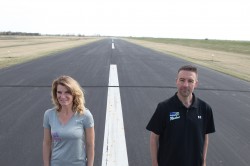 Some downtown businesses were welcoming of the marathon's Broadway finish line. Others were a bit reluctant because the road closures make traveling tougher for regular customers.
"That gets a little bit difficult for the retailers down there, but our hope was to bring people there and give them the exposure and people walk in the door," Knutson said. "And while you are waiting for your friend to finish running or you wife to finish running, you are going to do some shopping or something."
These are all factors to consider for the future. Though Knutson said he'd "never say never" to having another downtown marathon.
Planning all year
Planning happens all year round for the Fargo Marathon, which also hosts three other local races on different dates. So for Knutson, race directing is a full-time job.
November and December are the slowest months. January is busy for the marketing team because of New Year's resolutions. September is busy because of Mini Marathon planning. Summer is busy because of marketing and registration planning. March, April and May are the busiest months of them all.
"It's one of the those things that I always think there's so much we could do early on, December, January, February, but it isn't that easy," Knutson said. "You can't do a lot of the planning then. You can do some high level stuff. But the intricate details of where people are going to run and how the course is going to lay out, a lot of that doesn't come until the spring."
The event is made possible by sponsors and a team of about 30 committee members and four board members. They represent local businesses like Sanford, Bell State Bank and Scheels, as well as public schools and the city of Fargo. Of course, there are hundreds more volunteers on race day and the days leading up to the marathon.
"I've said this a thousand times and I just keep saying but it really is the community. They really do a great job. It's fun to be part of it," Knutson said. "When you live in a community like Fargo-Moorhead-West Fargo, they make a lot of things happen. Everybody has a can-do attitude."
… With a little help from a Dale Carnegie course
Not many know this but the Fargo Marathon is, in part, a product of a Dale Carnegie course.
Dale Carnegie Training of North Dakota helps businesses and employees construct business models, leadership plans and more to grow and improve their companies or soon-to-be companies.
Mark took the Carnegie course in 2004 after directing two half marathons. The course helped him devise a plan to put on a full marathon event and eventually turn the Fargo Marathon into a full-time business.
"So because I already had some experience with putting them on, I thought well this is the perfect business model. Rather than me trying to create some fictitious company (for the Carnegie course) that I wouldn't really know anything about, I'd just talk about something I know about," Knutson said.
The director learned a lot about marathons, first and foremost, through participation in different races around the country. His background in finance-related work helped him on the business end of the job.
Mark Knutson's career highlights
Highlights from Knutson's 10-year career as marathon director include: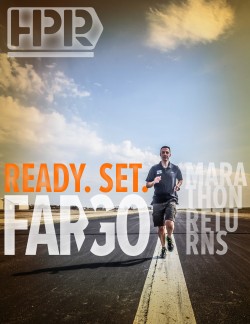 :: "I would say a couple of big landmarks are when we went over 20,000 people. That was cool. And that was in in 2010."
:: "Having Dave McGillivray here. Dave was the Boston Marathon director. He came in 2008. He ran the half but he also critiqued our race. He is one of the first people to help me get into this world of putting on races."
:: "I actually did like 2009, the flood year. It was tough. It was a hard year. Both personally and as a community it was a tough year. But we learned a lot. A lot came out of that when we had to do the double loop course. We had a big concert in the dome with Johnny Holm. It was kind of like the big community flood fight celebration."
IF YOU GO:
Fargo Marathon, Half Marathon and 10K
Sat, May 9, 7 a.m.
Fargodome (start and finish), 1800 N University Dr, Fargo
For the full schedule, visit Fargomarathon.com