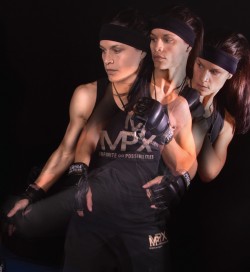 Mariah Prussia is 3-0. She's a professional Mixed Martial Arts fighter from Fargo. She's, in fact, the first sanctioned female MMA fighter in the state. And she's only been in the cage for one year.
On Saturday, Oct. 25, Prussia will go up against Colorado's top amateur fighter, recently gone professional, Summer Bradshaw, at the Scheels Arena.
What's MMA? It's kickboxing. It's wrestling. It's Brazilian jiu-jitsu. It's judo. It's taekwondo and more. It's two similar body type opponents striking and grappling each other till one proves their strength and power over the other.
"For a lot of the fighters it's not even really about the fight," Prussia said to HPR. "It's the lead up to the fight. All the different training, the discipline, the physical and mental components that really make individuals want to fight is because they are pushing themselves to the limit. And then the fight is just the light at the end of the tunnel kind of thing just to prove your performance."
With more wins come tougher opponents. She's also starting to get a lot of fight offers in other states, including Seattle, Albuquerque and Detroit. Prussia has yet to accept an out-of-state offer, but says she will eventually.
As a result, Prussia's training sessions have been getting tougher and tougher. Her coach is training her to make sure she learns not to show any sign of hurt when struck hard. It'll only give adrenaline to an unruly opponent.
"At the end of the (last) training session, he goes, 'If I don't see you limping, Mariah, tonight, I don't think I did my job,'" she recalled, smiling.
"Because you are simulating something that is going to happen live, and the more prepared you are and you feel these different things, when you get in the cage, when you feel it, it's gonna be like, ah, that was nothing."
The community is intrigued by Prussia, to say the least. And not only is she a year-old professional undefeated fighter, she's a business owner, a personal trainer, an empowerment and wellness speaker, a coach and a single mother of two boys. She teaches women self-defense through her nonprofit The Now Project. She's also a Minnesota State University Moorhead alum who played volleyball, basketball and fast-pitch softball.
Her fitness center in south Fargo, Xtreme Measures, has been running for seven years and was built from the ground up within a three-month time frame.
"Our mission is to empower women, one rep at a time, one voice at a time. Cause it only takes one to move forward, complete what you need to," Prussia said. "But we all have a voice, we all have a story. And when you can connect with your story and learn how to share it that's when you really become who you're meant to be ...
"So it's making sure they feel comfortable and confident because taking the first step is coming through the door. The key is to make sure that we keep them moving forward."
Though how does Mariah Prussia keep moving forward as she's just starting to explore and experience this new, fierce fighter side of herself?
In our interview with Prussia, we learn how her strength, courage and confidence have been able to trump her setbacks, surprises and roadblocks.
HPR: What got you into fighting?
Mariah Prussia: You know when you are young, we always kind of think of yeah it'd be kind of cool to get into a fight, not ever really wanting to get into one but it'd be kind of cool to say that I was in a fight, right? And when I was younger and growing up I always had that fight in me. It's like, try to defeat the odds, and push as hard as you possibly can.
Last year is when I decided that I wanted to fight after getting two sessions from a (local) MMA fighter, Dane Sayers; I realized that I really, really liked it. The sessions were more so to change up my personal training and to add variation to my kickboxing group fitness classes. So when he was showing me all these different things in two sessions, I'm like, wow I'm intrigued. There's a lot to learn. There's more involved in Mixed Martial Arts than I ever imagined. So at that point I'm like I need a new goal. I need something to push me.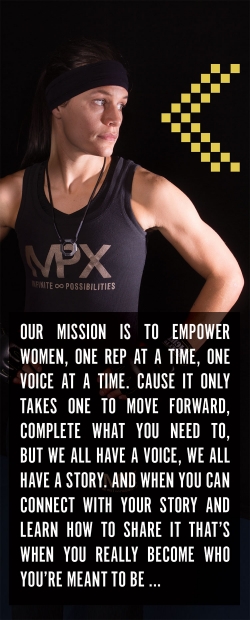 HPR: How was the training leading up to your first fight on October 26, 2013?
MP: On June 1, 2013, I was playing volleyball, went to set a volleyball and I ended up completely tearing my Achilles tendon. I had surgery June 10, so I couldn't do anything standing for six weeks. I was on crutches. I told Dane, we're not going to stop training. We are going to do all ground stuff, because obviously I can't stand. So we worked on my ground game and I still continued to teach kickboxing with my walker.
The thing is I like to try new things. When I'm injured or if there's something, everybody has a different twist. Whether it's a positive or a negative connotation, however you want to look at the scenario, I always try to keep it positive. So by me getting injured I was like, OK, I have to step outside of the box, create new ways for myself to stay in shape cardiovascular wise, because I can't do the norm, I can't walk, I can't do the elliptical or anything like that. So I was creating new exercises at that point, which also enhanced my personal training. So something that could have been a bad thing actually turned into a blessing in disguise.
HPR: Tell me about the experience of your first arena fight (against Harleigh Davis)?
MP: It was a little nerve-racking. It was tunnel vision. The first time going to fight, it was like I couldn't hear the crowd. I was like OK, I'm walking in this straight line and knowing that they are going to lock me in this cage and I'm not going to get out. So everything is going through your mindset. And as soon as I got in the cage, obviously yes, nerves were still going but as soon as the fight initiated, all of those things go outside the window.
My first fight, yes I won, but didn't go how I anticipated or how I visualized it, because the first round I was in a standing guillotine choke hold. So basically I'm getting choked for the first five minutes of the first round and the only thing that was going through my mind at that point was there is no way this female is going to beat me after she almost backed out of the fight four days before the fight. There's no way.
So that drive obviously pushed me through and then in the second round, it was to the point where my neck was so fatigued. Because when you are getting choked for five minutes your muscles are going to obviously be tired. So at that point I knew I had to make it quick in the second round because it was like I was balancing my head – it was a bowling ball on top of a straw. And it just felt like when I was standing there, I hope people can't see that I look like a bobble head, because that's what I felt like. At that point I did a double leg takedown and then I won due to striking, she tapped out.
HPR: How long does it take you to recover from a fight?
MP: Depends on how you get hit (laughs). My first fight I ended up having a black eye but other than that, I was fine. I went back to training that same week. Typically fighters will take week or two off depend on when their next fight is, or just in general from training. Some people will fight quarterly. Some fight a little bit more frequently.
HPR: Are you ready for your upcoming fight?
MP: Are you always? I mean (laughs) that's a loaded question. I think with this respiratory stuff (getting over a cold), it set me back a little bit, but mentally I think I am always mentally prepared because the last thing on my mind is losing. Because I don't think we ever really lose in life, ever. No matter what the outcome is, we learn from it, right? Our struggles create our strengths.
I feel confident because I have phenomenal trainers. I feel confident because I have the support not only of my employees but the community. I'm very, very blessed. I couldn't ask for anything more.
IF YOU GO:
DFC Fall Brawl feat. Mariah Prussia vs. Summer Bradshaw
Sat, Oct 25, 7:30 p.m.
Scheels Arena, 5225 31st Ave S, Fargo
scheelsarena.com