​Art and Life in "Madeline's Madeline"
by Greg Carlson | .(JavaScript must be enabled to view this email address) | Cinema | August 29th, 2018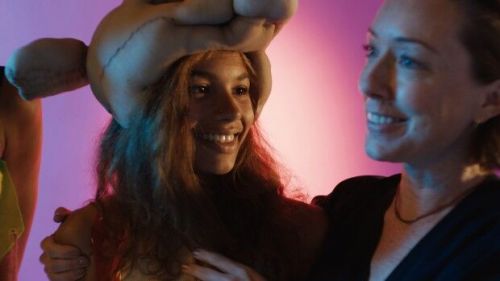 The borders of the real and imagined assume a prominent place in Josephine Decker's "Madeline's Madeline," the new feature from the talented filmmaker of "Butter on the Latch" and "Thou Wast Mild and Lovely." As a richly layered metanarrative that utilizes the vehicles of acting, performance, and improvisation as the means to explore a complex emotional triangle involving a troubled young woman, her mother, and her theater teacher, Decker's movie is a visual and auditory odyssey. Newcomer Helena Howard is explosive as the titular teenager, an intense explorer and deeply committed student who channels her demons into a series of stage exercises overseen by Molly Parker's out-there coach Evangeline.
In what many admirers will see as a shrewd piece of cross-casting opposite Parker, Miranda July is Madeline's concerned mom Regina. As the events unfold, audience allegiance to the parent and the role model shifts alongside the confused and frustrated Madeline. Decisions made by each person escalate the drama, and Decker handles the works -- manipulations, humiliations, and aggressions both micro and macro -- with supreme skill. While many of the cruel actions elicit gasps, none read as false.
The unidentified mental health issues faced by Madeline and the character's subjective interactions with her world guide the presentation of the content. Decker, working again with cinematographer Ashley Connor, plays with textures so convincingly that "Madeline's Madeline" quickly transcends the simplistic formula in which a person's fraying perception is expressed via filmmaking technique (like "Repulsion" or "Black Swan" or dozens and dozens of other examples). Connor, operating a custom rig that allows for close physical proximity to the actors, transforms her roving lens into a character.
Chris O'Falt notes that Connor's camerawork has a "liquid-like aspect to the focus, and the image is often slightly doubled or warped, while out-of-focus translucent objects come into the edges of frame to cause pockets of soft, sometimes colorful blurring." Some viewers will be put off by Decker's level of comfort with abstraction and shifting depth of field, but for those willing to embrace Madeline's perilous journey, with all its highs and lows, the style is integral to the story. In this sense, "Madeline's Madeline" demands repeat viewings to unpack the dazzling manner in which Decker uses the cinema to probe the nature of the creative process itself.
In one of the movie's most electric scenes, Evangeline invites Madeline to a dinner party at her home in what some viewers will mark as an inappropriate violation of teacher-student boundaries. Decker's acute awareness of Madeline's age and vulnerabilities shapes the film into a potent bildungsroman, despite -- or perhaps due to -- the outsize talent possessed by both Madeline and Howard. The growing pains dramatized here can make you squirm, and the threat of violence is clear from the beginning of the movie. Howard is given a perfect canvas on which to paint a masterpiece of a screen debut, as Evangeline's questionable if not unethical decision to use Madeline's personal experiences as the basis for her theatrical piece simultaneously flatters Madeline with attention and pushes her to the very edge of destruction.
"Madeline's Madeline" will open in Minneapolis on August 31, 2018.