​Bathtubs Over Broadway
by Greg Carlson | .(JavaScript must be enabled to view this email address) | Cinema | March 6th, 2019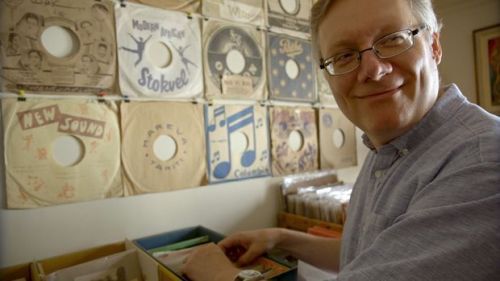 Almost relegated to the trashcan of history and the file drawer marked for popular cultural ephemera, the audio and/or video recordings of the industrial musical are properly dusted off and polished to a state of splendor in Dava Whisenant's "Bathtubs Over Broadway." The first-time feature director, who earned the Albert Maysles Award for Best New Documentary Filmmaker at the 2018 Tribeca Film Festival, follows longtime David Letterman staff writer Steve Young on his dogged pursuit of increasingly rare LPs of fully-produced, brain-melting shows promoting the corporate images of giants like Coca-Cola, Ford, General Electric, and Xerox.
Young's crate-digging prowess developed as he unearthed the ridiculous gems and curiosities used as fodder for the long-running "Dave's Record Collection" segment of the talk show. Even as the most far-out titles were ripe for on-air ridicule, Young was magnetically drawn to the souvenir and "internal use only" collectibles that were also commonly marked "not for broadcast" or "not for commercial use." Whisenant enthusiastically conveys both the thrill of the hunt and the endearing excitement with which Young approaches fare like G.E.'s 1973 "Got to Investigate Silicones."
That's just one terrific example, but of the productions highlighted in the film, perhaps none can top American-Standard's incredible "The Bathrooms Are Coming!," Sid Siegel's phantasmagoric ode to the luxurious offerings of the company's 1969 fixture lineup. Fellow deep divers like Dead Kennedys frontman Jello Biafra and Don Bolles of the Germs are quick to praise that recording's unforgettable je ne sais quoi, and it's difficult to disagree when you hear lyrical firestarters that begin with "My bathroom is a private kind of place…" In one of the movie's many treats, Whisenant and Young go one better, investigating the show's surreal vignettes and connecting with original "Bathrooms" performers.
Fans of Letterman will appreciate how Whisenant's profile of Young coincides with the end of the "Late Show with David Letterman" in the spring of 2015. The filmmaker uses the program's curtain call as Young's own midlife turning point and pause for self-reflection. The bittersweet farewells to colleagues as Young packs up his desk ripple out to appreciators of American broadcasting history in the audience, and Whisenant (who edited several dozen episodes of "Late Show") probably has enough material to pursue another feature film examining the end of the Letterman era of nighttime entertainment. Letterman, one of several executive producers of "Bathtubs Over Broadway," appears briefly in the movie.
Whisenant emphasizes the ways in which Young's quest have led him to meaningful interpersonal relationships and a sense of avocation that transcend his work as a writer of television comedy. Capturing interactions with well-known performers like Chita Rivera, Florence Henderson, and Martin Short, as well as other meetings with writers like Sheldon Harnick and Hank Beebe, Whisenant -- through Young -- communicates a commanding level of earnestness and respect for work that we previously thought was disposable. That surprising discovery, accompanied by the implication that one person's art is another employee's moldering memento of a 1965 Seagram Distillers distributor meeting, turns out to be the movie's affirming heartbeat.
"Bathtubs Over Broadway," featuring Whisenant and Young in person, opens the 2019 Fargo Film Festival on Tuesday, March 19. Tickets are available now at the Fargo Theatre box office.