Granik Returns with Compelling "Leave No Trace"
by Greg Carlson | .(JavaScript must be enabled to view this email address) | Cinema | June 27th, 2018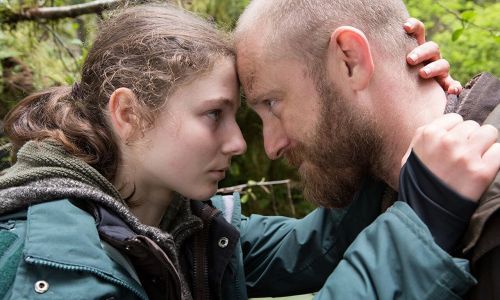 Filmmaker Debra Granik's "Leave No Trace," based on Peter Rock's novel "My Abandonment," demonstrates some spiritual and stylistic kinship with the director's tremendous "Winter's Bone," but the new film stakes out the emotionally intense territory shared by a father and his daughter living off the grid as a means of self-care/self-preservation and survival. Ben Foster turns in a predictably excellent performance as Will, a veteran with serious PTSD. Will's thirteen-year-old daughter Tom (Thomasin McKenzie), it would appear, is the single motivation and responsibility that keeps the man's demons at bay. Together, they live quietly, furtively, and out of sight of institutions, authority figures, and most other aspects of society.
Building on interests explored in "Winter's Bone," Granik doubles down on the instinctive, often unspoken rhythms of committed outsiders, and the opening scenes of the film illustrate the lengths to which Will and Tom must go to protect their anonymity and independence. Illegally camping in Forest Park to the west of Portland, Oregon, father and daughter work in tandem, complementing one another without much need for verbalized instruction. It's the movie's first sign of Granik's consistently remarkable way with her actors, suggesting an almost documentary-like verisimilitude regarding the rituals used by the characters to stay off the radar.
Of course, the primary external conflict of the story manifests in the inevitable interactions Will and Tom have outside of their cultivated bubble of privacy. Those scenes, constructed by Granik to maximize the simultaneous wariness and curiosity aroused in Tom, mirror the movie's underlying psychological conundrum: no matter how close the bond between father and daughter, Tom's desire to learn more of the world places her relationship with Will in a position as precarious as their legal status. Granik circles that growing divergence with a series of scenes in which the heartbreaking reality of Tom's responsibility to Will puts a lump in the throat of any parent who has witnessed the emotional and intellectual growth of a child coming into independence and personhood.
A number of writers and viewers have already remarked on the basic decency with which Granik chooses to portray nearly every person who crosses paths with Tom and Will (very far from the dark menace faced by Jennifer Lawrence's Ree Dolly in "Winter's Bone"). In one sense, that choice is a testament to the filmmaker's sophistication; nuance can be challenging in the absence of a concrete antagonist. Not even the representatives of the bureaucracies Will so strongly opposes betray any sense of incompetence or apathy, and the device sparks us to deeper questions about the tough hand Tom and Will have been dealt and whether there is any way back for the latter.
One of the ideas best expressed in "Leave No Trace" is the extent to which Tom and Will parent one another. Very obviously, Will has brought up his offspring with a level of skepticism and fear that suggests an arguably unhealthy -- or at least deeply limited -- view of community. Granik will challenge Will's position in several ways, and the presence of Dale Dickey, so unforgettable in "Winter's Bone," is but one suggestion that Tom might be better served by opportunities to interact with humans beyond her dad. Newcomer McKenzie's performance is so remarkable, not only does she match the skill of the always-invested Foster, she renders Tom's growth with an astonishing and vivid sense of the changes that test her willingness to continue the status quo. We watch her grow up before our very eyes.
"Leave No Trace" will begin a theatrical run on June 29, 2018.