​Lee's Latest Must-See: BlacKkKlansman
by Greg Carlson | .(JavaScript must be enabled to view this email address) | Cinema | August 22nd, 2018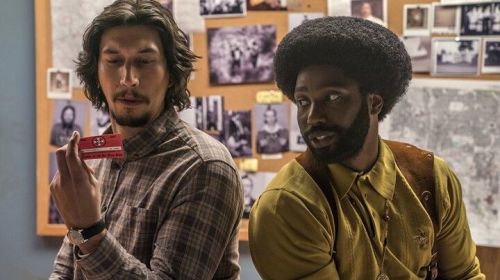 Spike Lee's stated desire to comment on current events through the colorful prism of a 1970s-set period piece reaps tremendous rewards in Cannes Grand Prix winner "BlacKkKlansman," a startling and brilliant addition to the veteran filmmaker's top tier. Loosely based on Ron Stallworth's autobiographical memoir, Lee's film dramatizes the utterly unbelievable story of the first African-American officer and detective on the force of the Colorado Springs Police Department. Stallworth, using the telephone, established a relationship with members of a local chapter of the Ku Klux Klan, sending a white proxy for face-to-face meetings as he infiltrated the organization.
In the movie, Stallworth is portrayed by John David Washington. Adam Driver plays Flip Zimmerman, Stallworth's counterpart and fellow undercover operative. Together, the two men create a complex composite, and Lee balances the unique pressures and dangers of the dual subterfuge. Like "Sorry to Bother You," another 2018 release that addresses code-switching via the presumption of a "Black voice" and a "white voice" ideal for telephone communication, "BlacKkKlansman" captures the nuances of identity construction as modified for particular audiences and situations. While Stallworth keeps the secret of his occupation hidden from Colorado College Black Student Union president Patrice Dumas (Laura Harrier), so too must Zimmerman hide his Jewish heritage from the racists with whom he is now spending significant time.
At one point, Zimmerman confides to Stallworth that because he was not raised in the Jewish faith, he has not previously contemplated that dimension of his culture. Hanging out with violent practitioners of Anti-semitism, however, now causes Zimmerman to think about it every day. Lee has always demonstrated expertise and clarity when presenting conflict between polarities (from the gender-based double standards faced by Nola in feature debut "She's Gotta Have It," to the divisions of colorism in "School Daze," to Radio Raheem's homage to the iconic love/hate speech from "The Night of the Hunter" in "Do the Right Thing"), and "BlacKkKlansman" spits fire in this regard.
In what might be the movie's most riveting sequence, Lee crosscuts between a KKK initiation presided over by David Duke (played to perfection by Topher Grace in one of the film's many terrific supporting turns) and a student gathering in which the horrific details of the 1916 lynching of Jesse Washington in Waco, Texas are recounted by Harry Belafonte's civil rights activist Jerome Turner. Toggling between the locations, Lee and longtime editor Barry Alexander Brown present unsettling footage of the white-robed bigots cheering their favorite scenes in a celebratory screening of D. W. Griffith's "The Birth of a Nation" and the gruesome, professionally shot photographs of Washington's charred and brutalized corpse, which would be sold as souvenir postcards.
That scene concludes with parallel chants of "White Power!" and "Black Power!" in what one imagines would be the film's peak example of Lee's facility with diametric binaries. The filmmaker's fiercest masterstroke, however, arrives in a late-amended coda showing images from the events and aftermath of the 2017 "Unite the Right" demonstration in Charlottesville, Virginia. Donald Trump's inexcusable, indefensible, David Duke-endorsed "many sides" response and the killing of Heather Heyer are included. We realize instantly that despite the presence and plentitude of the preceding tale's humor, tragedy eclipses comedy. And past and present are close siblings.