"Won't You Be My Neighbor?" Fred Rogers Documentary Brings Such a Good Feeling
by Greg Carlson | .(JavaScript must be enabled to view this email address) | Cinema | June 6th, 2018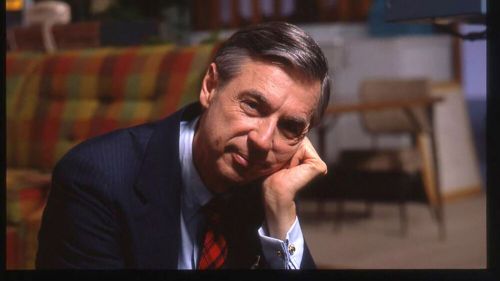 In a bit of fortuitous timing. Oscar-winning filmmaker Morgan Neville turns his attention to public television superstar Fred Rogers, an almost universally beloved figure whose unwavering message of peace, friendship, love and kindness contrasts diametrically with today's bullying tone of undignified late-night tweets issuing from a certain well-covered account.
One wonders how Rogers, a devoted Republican, might have dealt with the grim political partisanship that currently hamstrings just about any kind of cooperation and civility between lawmakers of opposing parties. Neville's documentary, titled "Won't You Be My Neighbor?," doesn't directly speculate on the marked differences between the quality program for children and the Orwellian doublethink accompanying so many of the president's messages. It doesn't really need to do so.
In several significant ways, "Won't You Be My Neighbor?" works best as a straightforward piece of media history chronicling a true anomaly. As producer Margy Whitmer notes, "[If] you take all of the elements that make good television and do the exact opposite, you have 'Mr. Rogers' Neighborhood.'" Neville touches on Rogers' core philosophies, which span from the worth of each and every individual to the musically-inspired attempt to recognize and honor the difficult "modulations" experienced by children. Rogers famously devoted airtime to deconstructions of heavy topics like divorce and, following the death of Robert Kennedy, assassination. Still remarkable, even radical, when you think about it.
For committed fans of Rogers, Neville's film offers few new or earth-shattering revelations. Given the director's track record, the depth, breadth, and quality of the archival footage is predictably tremendous. And there is absolutely nothing amiss about the inclusion of some familiar series highlights, from the appearance of ten-year-old Jeff Erlanger in his electric wheelchair to the sight of Rogers cooling his feet in a kiddie pool with Francois Clemmons (an anecdote also visited in a memorable 2016 installment of StoryCorps). Neville also confirms Rogers' incredible skill as a puppeteer, revealing the emotional map of the man's keen understanding of children through characters like King Friday XIII and close-to-the-heart alter ego Daniel Striped Tiger.
Despite the fact that Rogers died in 2003, the huge amount of film and tape covering his work and career from beginning to end allows Neville to place his principal subject at the heart of the documentary. The upshot of so much content with Rogers front and center is an immediacy that has the effect of virtually erasing the passage of time. The downside, however, is a certain amount of carefully cultivated distancing that perpetuates the myth of Rogers as a servant to his work (other tall tales that weirdly dogged Rogers for years, including wartime exploits, tattoos, and hidden sexuality, are lightheartedly but firmly dispelled). Fortunately, Neville makes sure to include a few examples of off-script Rogers. One, supplied by Rogers' son, reveals that the Lady Elaine Fairchilde voice would materialize when Fred was perturbed or aggravated by his sons.
To Neville's credit, "Won't You Be My Neighbor?" sidesteps the cliche of similar feature biographies by avoiding a parade of celebrities holding forth on the meaning of the person of the hour. Instead, he curates a very select set of interviews with key collaborators and confidantes to fill in the chapters, and the viewer is better for it. Some have wondered whether Neville should have worked harder to address frustrations and shortcomings (the movie does include a brief but valuable segment on Rogers' "Old Friends… New Friends," perceived largely as an unsuccessful attempt to make a show for grown-ups). But one look at a clip of Rogers greeting graduates following a commencement address affirms the what-you-see-is-what-you-get reality. As mirrored in the "New York Times" obituary of Rogers by Daniel Lewis, "...if college seniors were not always bowled over by his pronouncements, they often cried tears of joy just to see him." Watching "Won't You Be My Neighbor?," you will too.
"Won't You Be My Neighbor?" is scheduled to open in Minneapolis on June 15 and in Fargo on June 29.