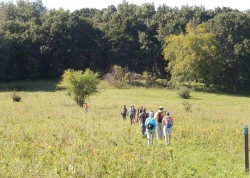 By Ben Haugmo
benhaugmo@yahoo.com
Winding through 4,600 miles of forest and field, alongside river and railway, and over hilltops as well as fences is the North Country National Scenic Trail. Next week, the National Country Trail Association will be celebrating their annual meeting, a chance for volunteers and enthusiasts to come together in shared appreciation of this country-spanning marvel.
North Country Trail veterans and newcomers alike will experience hikes which include river trails between Gooseberry Park and downtown Fargo to treks across the Tamarac National Wildlife Refuge.
Non-hiking events include an illustrated history of the Red River Valley with Steve Stark, and a presentation by Ruth and Dan Dorrough who, little by little and over the course of 17 years, have walked almost the entirety of the North Country Trail. They will be completing their adventure during the weekend hikes.
The trail was made possible through North Country Trail Association partnership with the National Park Service. Originally conceived in the mid-1960's, the trail is a project years in the making, and still growing. Currently, over 2,600 miles of the trail's 4,600 mile span is open to public use, but through the help of volunteers, more and more sections are becoming available.
Tom and Mary Moberg have hiked and helped develop more than their fair share of the trail. Tom Moberg is rounding off a three-year seat as president on the NCTA board of directors, and is vice president of the local Dakota Prairie chapter of NCTA. Mary Moberg is a member at-large of the Dakota Prairie Chapter leadership team. Together, they've traversed sections of the North Country Trail in all seven of the states it runs through, as well as helping to build and maintain the trail in various places over the years.
"We like to think of it as a park that's 4,600 miles long and four feet wide," said Tom Moberg.
Developing the trail for public use takes a lot of work and a lot of planning. The first step for the North Country Trail was to determine just where it could run. A rough plan was initially mapped out before real development could begin.
"There is an underlying master plan of where the trail should go," said Moberg. "In North Dakota, when they first laid the trail out, people were drawing on napkins saying 'Where can we go with this trail?' Congress authorized areas to be a national scenic trail based on the guesses that people made."
In the case of North Dakota, there comes an extra challenge in that only 4% of the land is publicly owned. The NCTA has to find private landowners willing to let the trail run through their property.
From there, the proposed stretch of trail is hiked in order to determine where the interesting scenic locations are. Areas of historical and cultural significance are noted for future hikers to enjoy as they make their journeys across the trail.
After the trail is hiked and choice spots selected, the area is developed. The prospective trail is mowed and smoothed out, and public amenities like rest stops and picnic areas are built. Where the trail runs into a fence, stiles are constructed to help hikers over, rather than installing gates that could accidentally be left open. "We have many styles of stile," said Moberg.
While it is not unprecedented for individuals to hike the entire North Country Trail in one season, it is a rare occurrence. Since ideal hiking times are during spring, summer, and fall, only five or six people have managed to hike the trail in one sitting. "I may have hiked 500 miles," said Moberg. "I don't expect to hike this whole thing in my lifetime unless I live another 50 years!"
Though it's difficult to choose just one favorite, the Mobergs have a couple stretches of the North Country Trail that they're fond of. "I love the trail around Itasca State Park," said Mary Moberg. "It's just beautiful there and it goes right through the park on both sides."
Other favorite sections of the North Country Trail include the Superior Hiking Trail, the area around Lake Champlain, and the Sheyenne National Grassland.
Registration for the North Country Trail annual meeting is currently closed, but events along the trail are hosted often. Those interested in exploring new locales can sign up for upcoming trips at http://www.meetup.com/red-river-valley-outdoors.