​Mason Lewis: the chef behind Nichole's savory side
by Brittney Goodman | .(JavaScript must be enabled to view this email address) | All About Food | January 26th, 2018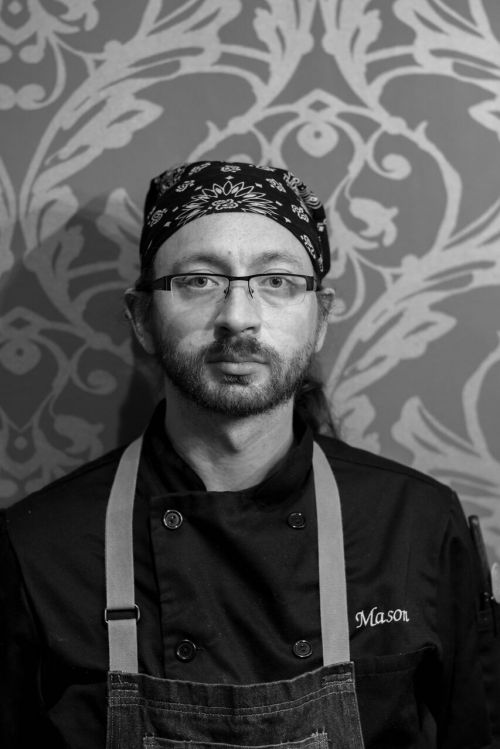 Consistently kicking it in all the local polls for "best dessert" and "best bakery" in town, year after year, Nichole's Fine Pastry is now also becoming a go-to place for delicious and innovative evening meals, with its new Bistro Menu and the mastermind behind the non-dessert menu, Mason Lewis.
In this first in a series highlighting local chefs and cooks, HPR caught up with Fargo native Lewis and chatted about his passion for creating food and particularly his work at Nichole's Fine Pastry, highlighting the savory side that balances the notable sweet confections.
Nichole's Fine Pastry opened in 2003, a few months before the HoDo opened. And Lewis has ties to both. The Fargo North High School graduate also earned a B.A. in History and Women's Studies and studied at Auburn University, before eventually attending the Culinary Institute of America.
Lewis was interested in cooking at an early age, as he says, "Growing up, everyone in my family was a good cook – my grandmother, cousins, my dad, my aunt. There was always food around that was really good. My earliest memory is of making doughnuts with my grandma on the farm." His family started catering a few weddings and he began to realize "I could do this."
Lewis researched different culinary schools and had his heart set on the Culinary Institute of America. "One of the entrance requirements of the CIA was at l had to have six months experience in a restaurant, not fast food, before being admitted."
Jason Littlefield offered Lewis a job at Littlefield's, where he worked during high school. Then he was part of the founding crew of the HoDo when it opened in 2003, where he worked for awhile before attending the Culinary Institute of America. He also worked with founding HoDo chef Andrea Baumgartner at all three iterations of The Green Market.
Lewis is a recent addition to Nichole's, beginning in early July of 2017 where he is the "one man show" when it comes to the nightly dinners.
"At Nichole's I do a little bit of everything. We change the menu every single week. We like the idea of not having themed menus, but keeping them more eclectic." Lewis is in charge of both lunch and dinner and the "bistro menu."
When asked what is his favorite thing about cooking, Lewis replies: "I like the aspect of being able to put my work and ideas into something that nourishes people. I also have a certain passion for destructible art – putting time into the creation and then ten minutes later it is demolished."
Lewis describes one of his favorite food creations: "When I was working with Andrea Baumgartner at the Green Market, I got to do a lot of sausages and charcuterie. We once made a prosciutto together, which was about an 18 month process. That type of cooking is fun. You don't know if you have got it right for an extended period of time. And that time we did get it right, if maybe just a hair salty."
Lewis enjoys "trying to cook different cuisines that I have eaten but never cooked before. I enjoy the challenge of trying to create those flavors. There is so much research involved and it can take you completely out of your comfort level. When you realize that you got it right, or even close enough, that is really fun."
Lewis describes the current food menu at Nichole's as "European-style bistro" with a limited menu and lower price points. "You still get a fancy meal, but you can afford it and you don't have to wait for a particular occasion to have it."
Nichole's lunch menu is sandwiches, salads, and soups. A recent look at the lunch fare included a roast beef and cheddar panini, a curried squash soup and a bulgur salad with Italian vinaigrette. The weekend night menu changes weekly and a perusal of some recent items includes chicken fajita salad with cilantro lime, red peppers, onions and a coriander vinaigrette; flatbread pizza with tomatoes, pesto and anchovies; green lentil stew, beef stroganoff, and chicken tikka masala.
Passionate about reducing the amount of food people waste, Lewis says, "The amount of food we waste is ridiculous. It is something that should be really easy to change people's minds about, but it is not. I want to try to work to help local farmers and get people to think differently about food."
He also is a proponent of the "ugly food" movement. In fact, through exploring "ugly food," Lewis says he found his most favorite squash. "Galeux D'Eysines. It's got all of these growths on the outside, which could be considered ugly. But in this case the more growths, the sweeter it is. The uglier the better in this case, because the better it is going to taste."
At Nichole's, he and the proprietor and genius behind the pastry, Nichole Hensen, have not come up with a title for him yet. Lewis says, "I consider myself more of a cook than a chef, currently, because a chef has more managerial duties and people under him. I think a lot of people throw around the term 'chef' too much."
José Andreas is currently the chef that Lewis most admires: "After the hurricane went through Puerto Rico, he fed so many people. Within a week and a half and he made over a million meals for people. I think that is absolutely amazing. "
Looking to the future, Lewis has dreams of one day owning a butcher shop that does charcuterie, but that may take him out of the Fargo area to realize.
In the meantime, stop in at Nichole's for lunch or dinner. They have a weekend night menu served Thursday, Friday and Saturday from 5:30 – 8:00 pm.
Nichole's will be closing at 2pm on Saturday, December 23 and will be closed for their holiday break through January 3, 2018. They will reopen at 8am on Thursday, January 4 for their normal hours, including dinner service.
YOU SHOULD KNOW
Nichole's Fine Pastry,
13 8th St S, Fargo
Tue Wed 8am-6pm; Thu Fri Sat 8am-9pm; Sun Mon closed
701-232-6430, www.nicholesfinepastry.com, orders@nicholesfinepastry.com