​EFARGO CELEBRATES EARTH DAY
by Chris Hennen | .(JavaScript must be enabled to view this email address) | News | April 20th, 2016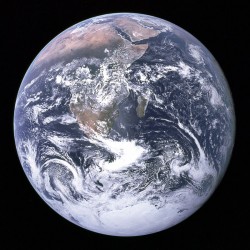 HPR spoke with Malini Srivastava, Assistant Professor of Architecture at NDSU and the efargo project lead for NDSU to learn more about efforts to promote energy efficiency in the community.
HPR: What is efargo?
Malini Srivastava: efargo is a partnership between NDSU, the City of Fargo and the two utilities, Xcel Energy and Cass County (Electric Coop). We established the partnership to participate in the Georgetown University energy prize competition. It's a national competition to see how much cities can reduce their energy use and become more energy efficient. It's a two year competition. We started in April of 2014; we sent in our first entries and quarterfinal entry. Now, currently, we are in the semifinals; the semifinals period started in January 2015 and it's going to end in December of 2016.
HPR: What do you have planned for Earth Day?
MS: For Earth Day, we have two major events. One is an exhibit combined with hands-on demos at Ecce Art Gallery on the 23rd so it's the day after Earth Day actually. That goes from 2:30 to 5:30 p.m. Then we have an improv comedy show preceded by an interview with a local expert about energy issues at Barry Hall at NDSU's downtown campus. That starts at 6:30 until 8 p.m. So those are the two main events.
In the Ecce Art Gallery event, we have NDSU students -- they are actually my students -- designing a passive house for Habitat for Humanity. What we're trying to do is demonstrate high efficiency homes can be affordable. They are designing two homes for this year and two homes for next year. They are going to be showing the design and they have hands-on demonstration activities, which are great for kids and adults. They will be teaching about what goes into a passive house and how can even just regular homes become more efficient. Then we have several area experts. For example, Christine Laney of Riverkeepers to talk about water issues not just with the Red River but within your home and outside your home, what are the water issues that you can take care of. We have John Bagu coming, talking about solar renewables and solar powered electric cars. We have the carbon neutral team at NDSU that won the social innovation awards this year. They are coming to talk about their project. We have several people there who are experts in their own area. We've got four themes: waste, water, watts and wheels. So we are kind of talking about energy issues from different points of view. That would be the all energy consuming things and what can you do to become more energy efficient, waste less and use less, essentially.
HPR: Who would you recommend attend the events?
MS: Both events are kid friendly, both the improv comedy and exhibit. At the exhibit we have a lot of interactive hands-on type of stuff. That would be great for kids and families, really any community member who is interested in how they can become more energy efficient in their own homes. How can they reduce their utility bills, energy bills, anyone would benefit. Then the improv comedy is really fun because Tane Danger is a Bush Fellow and he runs The Theater for Public Policy. His goal is, take serious issues like energy issues and climate change, take these issues and make them memorable and fun experiences to learn from. So what he does is he interviews an expert and there's all these great questions and then immediately following that interview, they will do the entire group, there are six people in the group, they will do an improv comedy based on that conversation. So it's kind of like combining a serious thing but then making it memorable and funny at the same time. Even that would be great for families so anyone and everyone is invited.
HPR: What does Earth Day mean to you?
MS: For efargo, we have been doing so many things in the past few years in the community, we've done multiple outreach efforts. We've tried to reach every household in the community. We've worked with municipal buildings, assessing them. So we are doing some nuts and bolts stuff, collecting data, building dashboards to visualize that data. We're playing an energy game to get people interested in a playful way in saving energy. We've worked with the schools, with the K-12 challenge where schools have participated in a competition to save energy and in fact one school within six weeks, they reduced their energy by about 29 percent, which is unbelievable. These are middle school and elementary school kids who just through their own behavior and actions are making huge changes.
For efargo, I think Earth Day means really a celebration that we've created these unlikely partnerships, just reached out into the community and asked people to get involved in a fun way in helping themselves and helping the city and community as a whole. So for efargo, I think the Earth Day is really a celebration of all this work that has happened that people have gotten involved in and helped us with. And with Georgetown University, we are currently ranked number three in the competition out of 50 cities that are competing, which is very remarkable considering we are a very cold climate. In a lot of energy measures, North Dakota doesn't fare very well. So for Fargo to be number three in a national competition is really remarkable. We are just celebrating all this effort that has gone into it and we just want to get energized again for the rest of the few months that are yet to come in the competition.
IF YOU GO
Open exhibit and hands-on demos about energy use and efficiency
Saturday, April 23 2:30 to 5:30 pm free admission
Ecce Art Gallery 216 Broadway N, Fargo
Improv comedy show about energy use:
Saturday, April 23 6:30 pm to 8 pm free admission
NDSU Barry Hall auditorium 811 2nd Ave N, Fargo
More info: http://www.efargo.org/