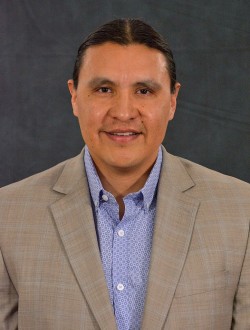 Over the weekend, North Dakota Democrats nominated Native American activist Chase Iron Eyes to run against Congressman Kevin Cramer for US House in 2016 at their state convention. Almost immediately, Iron Eyes came under attack from the blogosphere. HPR caught up with him to find out why he's running and to respond to the attacks.
HPR: First of all, why don't we talk a little bit about why you decided to run for Congress?
Chase Iron Eyes: I am a lifelong North Dakotan. I call myself a homegrown North Dakotan. I am running for Congress because I feel like we have a government at the federal level and the state level that is ignoring the real people of North Dakota and the real people of the United States. When we have the United States bailing out too-big-to-fail conglomerates like AIG, Lehman Brothers, Bear Stearns, whoever got bailed out. It was the taxpayers who bailed them out and allowed those same companies to give their CEOs, already multi-millionaires, golden parachutes. So that was the first thing that made me want to run because I was very personally impacted by that with the housing market collapse. We were living in Denver, Colorado, at the time. I grew up in North Dakota and we started having a family. You don't really realize how special North Dakota is until you don't have it anymore. So we were living in Denver trying to raise a family, we wanted a safe and strong environment to do that in. My wife got a job at the Mid Dakota Clinic as a pediatrician so we had the opportunity to move back.
But going back to the housing crisis, the market bubble burst and our first home that we ever purchased in our lives dropped in value $50,000 at least because when we were ready to leave, we were trying to sell that house and we would have had to take out a loan for $50,000 just to close on that house. When we moved back to North Dakota, we moved back to North Dakota at the start of the Bakken boom. Because when we moved back, we couldn't sell that house so we had to rent a house in Mandan. I lived next to a good friend of mine who was a coal miner, rest in peace to him, he was a good man. But we were subject to the North Dakota rental market. Bismarck at that time was kind of getting hit, probably everybody getting gentrified or just taken advantage of out in western North Dakota. There were little old ladies getting kicked out of their houses that they'd had forever. We were thankful to find a house and then we went from Mandan, North Dakota, and we moved over to Bismarck to be closer to where Sara's work is at which is Mid Dakota Clinic, my wife Dr. Sarah Jumping Eagle. We had a nice place in the Solheim School District and then that particular guy increased our rent by $500 and I don't blame him, he could get that. And then we were OK, we can pay that and we ended paying like $1,900 in rent and then within 45 days he told us he's just gonna sell it and that he could make a lot of money by just selling it. So he went and did that and still didn't blame him for that. Luckily we had a family friend who owned a house in the Highland Acres neighborhood in Bismarck so went there. Kids then went to that school and then that friend, situations changed, the mother had to move back in so we had to find another house, the Dorothy Moser School District, all within Bismarck.
So I just kind of felt like I was getting pushed around. I started to listen to the ads because at the time I wasn't trying to become a politician or run for any kind of office. I was just creating our own media network becoming a leader in the Native American community and I realized North Dakota is a predominately red state and nobody really knows why. Nobody today can tell us why people are Republicans in this state. I believe that North Dakota voters are independent. The Democratic Party here doesn't always follow in lockstep with the national Democratic initiatives. The same could be said with Republicans. There's a lot of independent voters out there. I've felt that the Republican Party in North Dakota, not all Republicans but the leadership in Bismarck, was only concentrating on the intoxicating $1 billion surplus and all the revenue that was entailed in the Bakken oil boom. I've seen them declare a $1 billion surplus and then within the matter of like a year -- we'd have to look it up, they were declaring a $1 billion shortfall and having to fire state government employees. For me, that signals something is wrong at our top levels and Republicans are controlling our economic destiny right now and they are doing things like lowering the oil and income tax which directly benefits Oklahoma and Texas investors and that's all fine but our leadership should represent working families in North Dakota.
So I felt like our governments are becoming too big and too susceptible to being influenced by too-big-to-fail lobbying and too-big-to-fail extraction and too-big-to-fail finance and those things in and of themselves are not bad for North Dakota but unless we the people have elected leaderships who hold themselves accountable to their constituents without having to have somebody protest or without having to have a petition drive, they should just be trusted to do the right thing and that is to ensure that the regulatory infrastructure is in place that our land and our waters, our agriculture economy, our hunting and fishing economy, our recreational and our tourism economy, our small business, our farming and ranching community, our middle size business, they need to make sure that we can all thrive and prosper for 100 years to come, 1,000 years to come, that's the kind of planning to come. We don't need a 10-year party and they get to take all the credit for the oil boom and then not addressing any of the lack of roads and infrastructure, any of the crime and law enforcement increases and shortages. We have people in ND that are dying of heroin overdoses. That is something that I had never, ever considered that I would hear in my home state. We have sex trafficking. We have a meth problem that is off the charts. In cities like Bismarck where we want to build new jails instead of a new Veterans Center, counseling and after care. I only say that because I had a good friend come back from Afghanistan and it highly impacted him.
I feel like we are being left out and I feel like we are being taken advantage of not any political party, the real taxpaying people in our state. If we have a government that is lowering the tax burden for oil companies while at the same time increasing the tax burden for property owners, we have a problem and that's exactly what happened. Property tax was increased.
I just feel we have to step up, we have to take control of our destiny, especially those of us who were born after 1970. We've had great leadership in this state but if we as a kind of an upcoming generation don't take our place, these guys in control are leading us toward a cliff. We will go off that cliff unless we take control ourselves.
HPR: How does it feel for you to be the first Native American to run for Congress in North Dakota?
CIE: I don't think I fully even processed it yet. I am extremely honored, more than grateful that the people of the Democratic-NPL and it's called the NPL for a reason. I am extremely grateful that they have placed their trust in me to win this election in November of 2016. What I do know is that I have the leadership abilities and I have the drive and the compassion to do this. I wouldn't be in this race if I didn't think we could win. The Democrats have proven that they can win and they do that by appealing to the independent voting bloc within a majority of people who are claiming or declaring or identifying as Republicans. Look at how long they call them the Big 3 -- Kent Conrad and Byron Dorgan and Earl Pomeroy, they were elected for a long time because they hold themselves directly accountable to North Dakotans, they don't always follow what the larger Democratic party is doing and we need to rebrand our party because somehow or another, they've been able to cast us as people who are fiscally irresponsible and liberal and that we want to steal people's wealth. I don't know where that's coming from. We want to create wealth in our state, we want to have more prosperity but it's got to come in a very responsible manner. It cannot come like we are in the middle of a party. It's got to come like we are cognizant of the consequences, of the actions that we take today as a government and as a country. We're in a crisis right now, there are all kinds of things going on right now, there's global warming, there's the value of our dollar, national security, there's terrorism, there are food concerns, housing concerns for ND, energy. Oil is not going to last. We as a planet are going to hit peak oil at sometime within my lifetime and we need to sober up and stop this party obstructionism that's going on and take responsibility for our future, that's really why I am running.
HPR: You've come under attack from some blogs since you became the nominee. What do you make of that, is there anything in your past that you feel you need to apologize for? They've gone after you for criminal history and personal relationship history, do you need to apologize for any of that or does it just come with the turf?
CIE: It definitely comes with the turf. The criminal history, I can understand that. I can't hide from anything and I won't hide from anything. I will face the storm. I've never run for an office of this caliber and so there's going to be a storm but I am going to have to face it. I do apologize for my decisions that day. I apologize mostly, I remember their names, I remember the homeowner's names who had his door kicked in. I don't want to mention it. When I came back into North Dakota, I took a star quilt over to his house because that's how we make amends but he no longer lived there. I know the lady's car who was stolen and I remember the arresting officer's, I wanted to apologize to them. I remember them by name. The only way to apologize is to transform and show by your actions that you deserve forgiveness.
With the recent blog and allegations of adultery, I don't know if you've seen but the lady who was allegedly the creator of that picture with all the defamatory statements on there, she has denied it. But the picture, I took that, I was tracking my fitness progress. I don't know if you've seen the picture. It was unfortunate that the picture got out, it's an old thing that certain people have been trying to destroy with it for a number of years. My duty is to my family in that regard and we've gotten through it privately over the years. I've never actually met the lady that is alleged to have posted that defamatory statement, I've never met her in real life but because of the nature of seeking a public office, there is nothing off limits. People are going to dig wherever they can dig. That's just the nature of it.
HPR: Finally, I wanted to ask you about your opponent, Congressman Kevin Cramer. What are your thoughts on him and his record? Of course over the weekend, he endorsed Donald Trump and that made big news.
CIE: Cramer has been elected two times in a row. I respect Kevin Cramer's office and the post that he holds on behalf of our state. But we have a democracy, a representative democracy, we are a country that prides ourselves on competition and so he's got to be open to competition. I just feel that I have what it takes to put together a formidable campaign that will have to be taken seriously. In my mind, there's just too much at stake here for our state to just go on with politics as usual. He's willing to endorse Donald Trump and that's his prerogative and some people will be OK with that but we as North Dakotans certainly need to make up our own minds. When we do 100 percent party loyalty, we get things like certain parties refusing to confirm Supreme Court justices, or you get government shutdowns or any number of derelict of duty because we are electing these leaders to represent our interest and to make decisions in our best interest and not in their party's best interest. I really think we need to bring some critical thinking back to North Dakota politics. He has been elected before, obviously North Dakota wanted him for something. I'll do my best and run a good race.