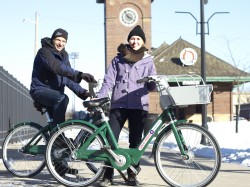 Fargo is set to gain its first-ever bike share program this spring, providing a healthy new way to get around the city.
Great Rides Bike Share allows members and guests to check out bicycles. Managed by Great Rides Fargo, it will officially launch Sunday, March 15. Great Northern Bicycle Co., which will maintain the bicycles, also won the bid to build the stations around town.
Bike share programs are pretty simple.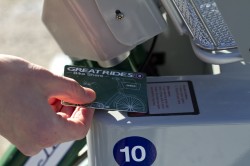 Members will have a card that they can swipe at stations to check out available bicycles. Then they are able to ride the bike for half an hour before needing to check back in at any station. When rides exceed the 30-minute limit, users will incur a $1 fee for their next half hour and an additional $2 charge for each half hour thereafter.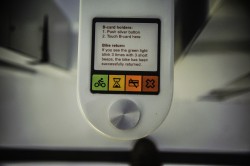 The short time segments are meant to ensure bikes get returned and enough are available for all members to use – in other words, to encourage bike sharing. However, once members check their bike back in, they can then immediately check out a different bike at the same station. To facilitate the ease of finding available bikes, kiosks at each station will have maps to help riders plan their trip.
When the program launches, there will be 101 bicycles that can be docked at any of the 11 stations placed around downtown Fargo and the NDSU campus. The southernmost is located at the YMCA next to Island Park, while University Village across from the Fargodome is the northernmost. To account for the possible overflow of bikes at any single station, there will be more available docks than total number of bikes. Also, Great Rides will send out a mobile rack (bike-propelled, of course) to evenly distribute the bikes twice each day.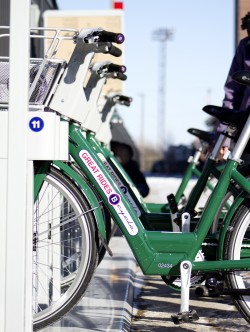 Year long memberships will cost $75. But for those who get on board and sign up before the official launch on March 15, the cost for a first-year membership will be reduced to $65. In addition, a pre-launch membership comes with a special edition member card, which is good for the purpose of bragging rights. (The people at Great Rides believe the bike share champions of the F-M community deserve a little something extra for their support.)
Even before its launch, Great Rides Bike Share is set to become the second largest bike share in the U.S. based on prospective memberships. One major reason for the program's auspicious start, in terms of the membership numbers, is due to the program's close partnership with NDSU and the support of City Commissioner Mike Williams, said Sara Watson Curry, Great Rides' director of operations.
"NDSU student involvement is really a hallmark of the program," Curry said. "The NDSU student government helped bring the program here; they initially proposed the program and worked to find partners and supporters of the project.Two student government members are on the board, and we were able to arrange it so that NDSU students - all 14,700 of them - have automatic enrollment. They will be able to use their Bison Cards at the stations and no extra funds will be charged to students. Their membership fees are funded through the student fees."
The road to the launch has been a long one, however.
Cam Knutson, who has been involved since his time as NDSU student body president, has followed through with the planning process for the last three and a half years, and he knows how much time and energy went into bringing a high-quality bike share program to Fargo.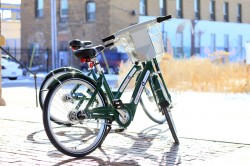 "I think the reason all of us continued to work on this project after that first year is that we all believed in the project 100 percent," Knutson said. "Our team [the self-coined Bike Share Steering Committee] went through a lot … literally thousands of hours were put into research, fundraising, implementation strategy, meetings, etc. The team rode on a lot of roller-coasters to get where we are now. I give major kudos to every single person who has been involved in making Great Rides Bike Share a reality."
B-cycle is the company providing the actual software and the station pieces that make the program possible. This will lead to another great feature for members, Curry noted.
Great Rides members will have access to B-cycle programs all over the U.S. This includes such cities as Austin and Houston, Texas; Denver and Boulder, Colo.; and Madison and Milwaukee, Wis., among others.
"My hope is that the community embraces the program like we have seen so many other communities do," Knutson said. "I hope the program serves as a catalyst to further enhance the bicycle culture of Fargo … and that we are able to build upon the successes of this first launch by adding stations and bicycles in the future."
So how do they ride? – HPR takes the bikes for a spin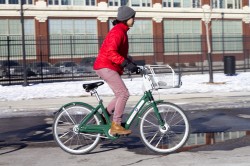 With the stations and bicycles now ready to go, Great Rides was nice enough to allow HPR to take these bikes for a road test.
One of the first things we noticed was that the ride was smooth. Surely enough, the ride glides. The seats are amply cushioned and they have a height adjustment range of over a foot to accommodate riders of all sizes (everyone's got their own magic setting).
The frame is sturdy, but the bike isn't too heavy, weighing in at about 50 pounds with all the attachments included. There are three adjustable gear settings, allowing riders to easily maneuver through the flat streets of Fargo as well as the hilly trails along the Red River. A nice feature with the gears is that you don't have to be peddling when you switch: you can just as easily change gears sitting at a stoplight as you could while cruising along.
The lights in front and back are powered by a dynamo hub, which converts your pedaling energy into a power source for the lights. After about a minute of pedaling, the lights will continue blinking, even when riders come to a stop.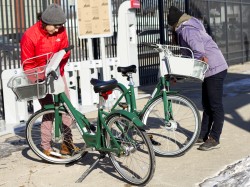 The bikes have a lock and chain connected to them, allowing riders to make pit stops without having to worry about a stolen bike.
To lock up, all one needs to do is loop the chain through whatever they are locking the bike to and insert into the lock, which is located underneath the bike's basket. Just remove the key from the lock and that bike is going nowhere. To unlock, just insert the key back in and the chain will practically pop out. It turned out to be pretty simple. Another important note – while riding around, the key will remain stuck in the lock – this prevents keys from getting scattered around the Fargo area.
To check bikes out of a station, we swiped a membership card over the silver button located right beside the bike in each docking bay. Then the bike unlocked, and it was now ours for a solid half hour. To return the bike, we just pushed it back into an open docking bay. Again, it was as simple as that.
Each bike comes equipped with its own bell – good for warding off collisions, or for saying hi to other cyclists and pedestrians.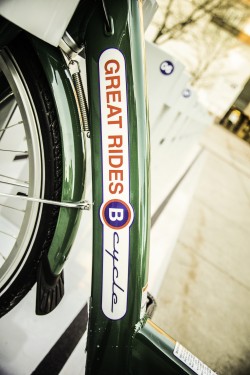 Other features include splatter-blocking fenders over both wheels and a very sizable basket (large enough to hold E.T.). B-Cycle also has a downloadable phone app available that allows Great Rides members to locate stations by proximity and keep track of bike availability. A GPS system will also allow members to track their usage online, as well as get an estimation of calories burned and their CO2 offset.
The official Great Rides Bike Share launch party is from 2 to 4 p.m. Sundayat Great Northern Bicycle Co. It will be open to the entire community and will offer a chance to learn more about the program and see the bikes. Included will be light refreshments, door prizes and station demos, and (weather permitting) the event will end with a bike ride to populate the 101 bikes throughout the city. The pre-launch discount memberships will be available until midnight Sunday.
IF YOU GO:
Great Rides Bike Share launch Party
Sun, March 15, 2 to 4 p.m.
Great Northern Bicycle Co., 425 Broadway N, Fargo
greatridesbikeshare.com
facebook.com/GreatRidesBikeshare